Overview:
Cloudify's Danish CVR lookup is a simple and easy to use extension that uses a CVR lookup to automatically populate data in the company contact fields in your HubSpot CRM. These data include the company type, industry, industry code, address, number of employees, and registered capital among others. CVR being the authorized database of Danish companies the data fetched from these sources are the most accurate.
Cloudify's aim at simplifying and automating the mundane tasks of an everyday business process is the very idea of this CVR lookup extension. It automates the data entry and data management of your client company contact on the HubSpot CRM. Below is the detailed list of CRM fields that you can update with Cloudify's CVR extension upon input of CVR number manually.
Company Name
Phone Number
Website URL
Year Founded
Number of Employees
Street Address
City
Postal Code
Country/Region
Email*****
Industry code*****
Industry description*****
Company status*****
Company type*****
Note: *****Marked fields are are not present on HubSpot by default, these fields along with the field for CVR number will be added to HubSpot CRM upon installation of the extension.
Installation:
**Step 1:** Install the "Danish CVR lookup extension by Cloudify"
**Step 2:** Follow the subsequent instructions for the installation and setup

Usage Instructions:
Step 1: Go to your HubSpot account and navigate to Contacts on the top bar.
Step 2: Go to Companies and click on an existing company that you would like to add the details for. You can also create a new company by adding the domain and name.

Step 3: Go the company and on the left tab navigate to "View all properties"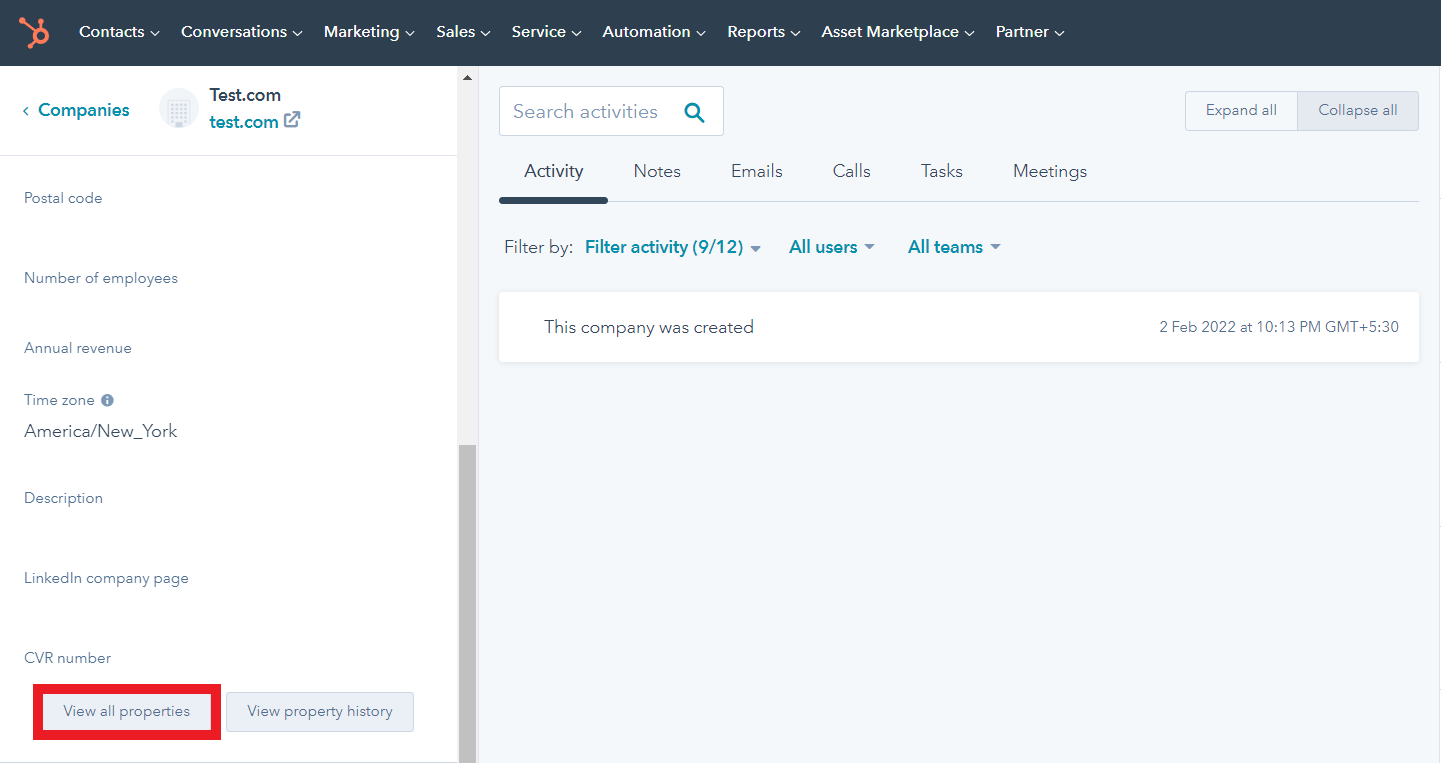 Step 4: There are several properties available from which you can choose to include the ones you want in your records.
Step 5: Make sure to add the CVR number property to your view by clicking "Add to your view". You can include any property that you want by clicking the add to view option provided corresponding to the property.

Step 6: Now input the CVR number of the company and click save. All the data under each property that you have chosen will automatically be fetched and populated.