Customer Relationship Management (CRM) lets you manage your business interaction with current customers as well as potential ones. Talking about the goal – It's simple: Improve business relationships with new and existing customers and opportunities. You not only connect with your customers but also streamline your business processes, improve productivity, manage teams, manage sales, manage contacts, and improve profitability.
CRM can replace the multitude of spreadsheets that you use to manually enter your customer or company data into, and the multiple apps or systems you use to store data. They store all the data linked to sales, leads and customers – all in one place.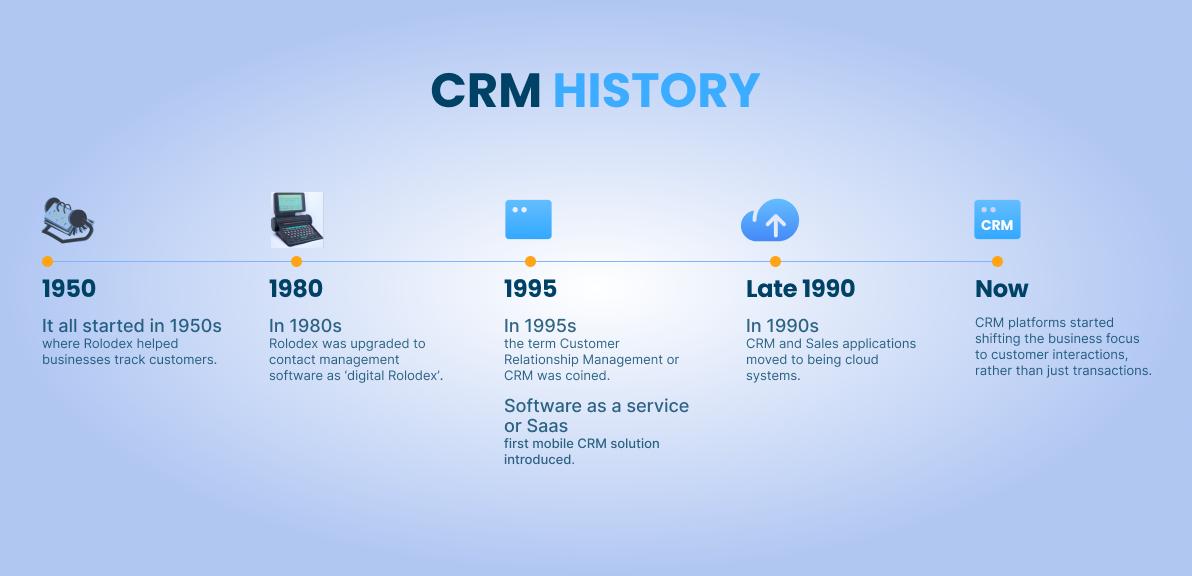 The industry of CRM, which is one of the fastest-growing in the world, is projected to experience a growth rate of 14% from 2021 to 2027. 
A CRM tool connects your teams and systems to provide actionable insights. Here you can find out some of the benefits of CRM listed below:
A customer relationship management software helps you track lead data so that the sales and marketing team get an overview of the lead stage and monitor these opportunities for better sales.
Get a real-time view of the sales data by linking it to your CRM solutions and get hold of any bottlenecks. 
Based on the CRM data, you can focus on what is important for your business. For example, identifying leads that are ready to be closed or needs a follow-up. 
Optimise workflows with CRM automation and eliminate repetitive and manual tasks. 
You can tap customer behaviour and manage customer data to better understand customer interactions and engagement across various touchpoints. 
The CRM platform being security rich, lets you gain an advantage through rapid customer responses, launch new campaigns, and much more.
If you are finding it really difficult to manage your tasks linked to marketing, sales, finance, or customer relations you know that its time to upgrade to a Customer relationship management system. 
You can look into these warning signs:
If you lack centralisation: It becomes difficult for you to take decisions as all data are scattered and none are at one place. It takes a lot of time to collate all this data and make sense of it.
Communication breakdown: If your marketing and sales team lack communication, it might hurt the lead stages and affect the productivity of both teams.
Lack backups: When a sales team leaves the company and there is no centralised platform in place, customer relations are also lost and it takes an enormous amount of time and money to build the lost relationships. 
Poor customer satisfaction: Without a CRM system, it becomes difficult to find the customer patterns or behaviours as all data remains scattered. A good CRM ensures effective contact management that is supportive to your sales pipeline management and lead management.
Low lead scoring: Without a CRM app, lead scoring can be near to impossible for your sales and marketing team. 
| If you are still using a spreadsheet | When you start using a CRM |
| --- | --- |
| Every customer information is static | Cloud-based CRM and static information is present along with action taken, notes, comments, history, etc. |
| Need to update contact manually | CRM helps in automatic contact update |
| Contact can get duplicated | No duplication of error |
| Information stays in the sheet till you have imported it to another app. | Data flows smoothly from CRM to the sales and marketing team. |
| Difficult to score leads | Automated lead scoring |
| Manual task reminder | Automated task reminders |
| Data sorting is manual along with list creation for emailing. | Automatic contact segmentation based on customer behaviour. |
|   | Automated customer support |
|   | Makes the customer journey smooth |
|   | CRM can help meeting the needs of small businesses, along with medium and large size enterprises |
|   | All-in-one CRM platform for project management, lead management, increasing sales opportunities, etc. |
There are a number of points that needs to be taken into account before choosing the right CRM software tools.
Types of CRM
Cloud CRM: Cloud CRM is maintained by the service provider. You can access the service over the internet where you can deploy it without any app installation.
On-premise CRM: It involves the installation of software on the device that needs to be updated, customised, and maintained by your IT team. 
| Cloud CRM | On-premise CRM |
| --- | --- |
| This needs no additional infrastructure to function. | These needs setting up servers on your business premises. |
| You can access all data from anywhere and from any device. | You can only access the data on your local network. |
| You get free trials in most of the cloud based apps. | Here, no trials available. |
| Customisation is available and it varies based on the customer needs along with quick deployment. | Here, the deployment period remains long. |
| Easy integration with third party apps through APIs. | Third party integration possible but with expert help. |
| Follows robust security measures. | It is the responsibility of the organisation for protection of the data. |
The CRM app takes data from the integrated platforms and organises it.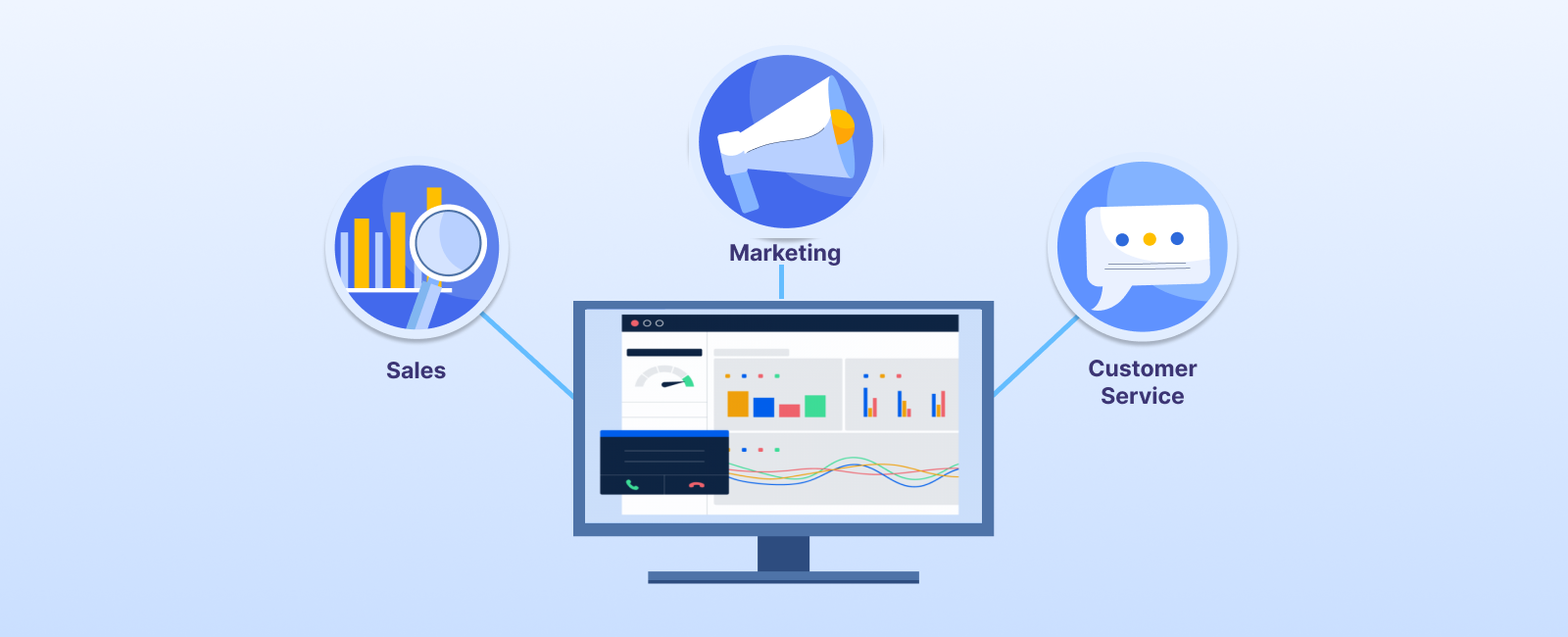 You get analytics reports and real-time insights that make the reports accessible and actionable. 
The company that has increased its investments in analytics are likely to use this data for its competitive advantage over the competitors.
A CRM is a powerful management tool that can be used by businesses of all sizes to manage customer relationships and increase customer loyalty. It provides a comprehensive view of customers and their interactions with the company, allowing businesses to better understand customer needs and preferences.
With CRM, small business owners can better understand the different CRM functionalities and CRM capabilities that helps them easily track customer data, automate sales processes, create personalized marketing campaigns, and generate valuable insights into their customers. Additionally, it allows them to provide an improved level of service by quickly responding to inquiries or complaints and improving their customer management. CRM can also help them in their daily operations by ensuring that they are providing the best possible experience for their customers.
There are many free CRMs available that can be used by these businesses, like HubSpot CRM. If the business is sales focused, then Pipedrive sales CRM can be a great choice for them.
Build your team
Define your business goals and prioritise it
Define your processes
Map the processes to know where CRM can be used
Define the mapping fields as per your needs
Train your team
Communicate with your users
Future of CRM and CRM platforms:
Artificial intelligence is expected to take the front row by increasing the efficiency of CRM platforms through incredible customer experience. In addition to this, mobile experience is going to improve. Not ending it here, big data will be a big part of this revolution where platforms will aggregate and organise their data. 
Know how CRM system integration is changing businesses and their efficiencies.

Content Developer
Meet Pernille, a skilled content writer with a specialization in the field of business automation and the IT industry.
Expertise
Process Automation
Artificial Intelligence