Business process automation has become a big hit and a game-changer for many businesses. Estimated growth of $12.7 billion by 2021 is what we can expect in the automation industry. The industry is racing the course at a rate of 10% year on year. It's no surprise that automation is going to take businesses to a newer level in this modern world.
What automation can do is free up the man-hours to focus more on strategic works. This process cuts down the operational cost of the business, reduces human error and inefficient systems. In terms of benefits, the payoff is high.
What Business Process Automation is all about?
Business process automation (BPA) is a step in business process management (BPM). BPM is all about creating, editing, and analysing business processes that make up the core.
BPA is about the application of technology in everyday business processes to automate these routine manual processes. The most frequent or recurring task can be automated to increase efficiency, productivity, speed, and consistency. The automation can be applied to a pile lot of areas like:
- HR and onboarding
- Finance
- Sales
- Product development
- Inventory tracking
- IT
- Education
- Procurement
- Logistics, and so on.
In fact, experts believe that in 60% of jobs, one-third of tasks can get automated.
Why do you need to start with business automation?
Let's start with an example of the accounting system. When there is huge data entry to be done manually in spreadsheets, it can rack up to a huge amount in form of the staffing costs and also take a lot of time. The inevitable human errors can create the accounting minefield.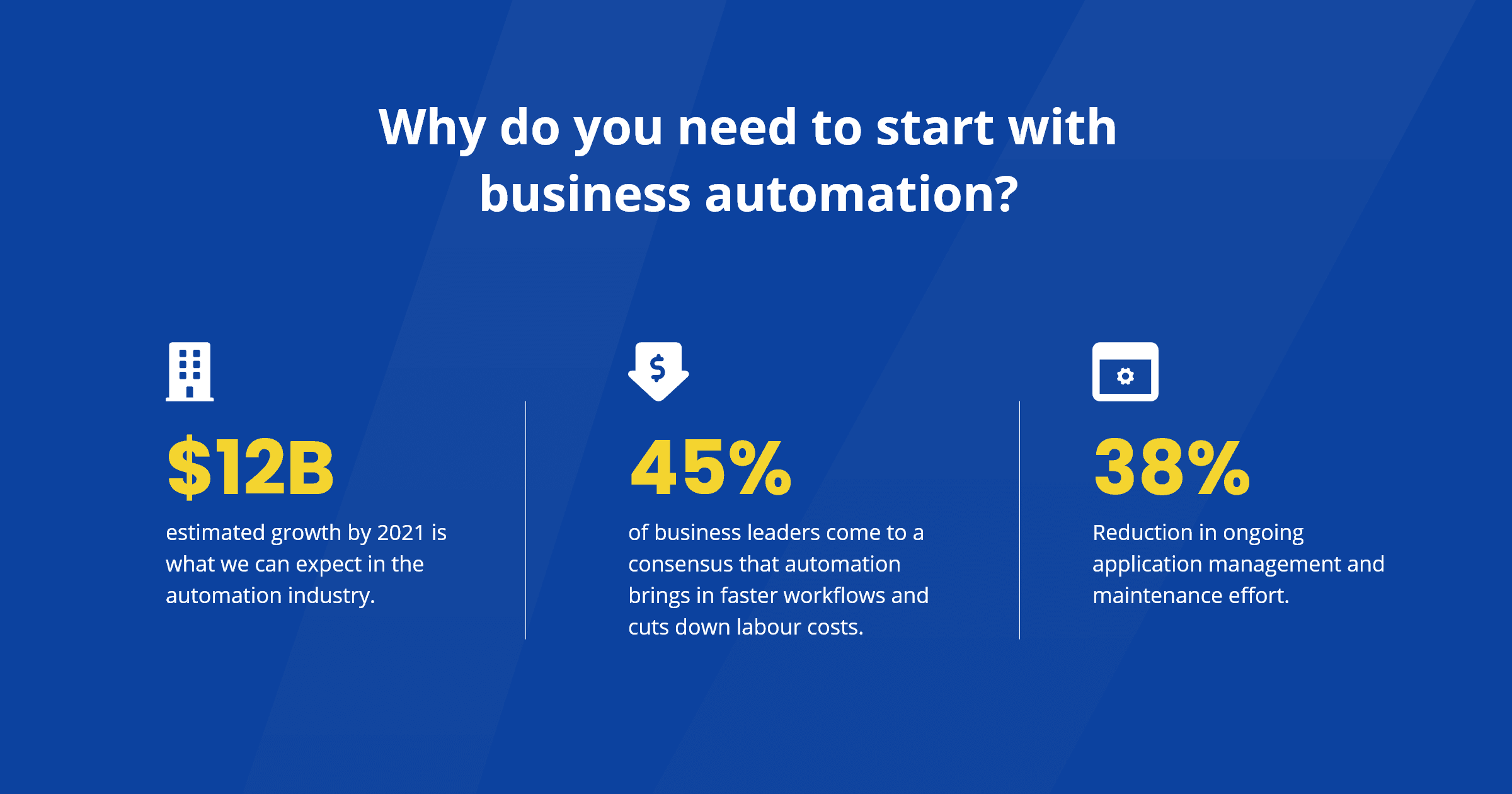 Let us not sugarcoat the whole thing. In simple words, manual processes are time taking, inefficient, labour-heavy, and ineffective with poor process outcomes. To scale such processes one needs to increase the staffing budget, which can add up to the financial burdens. Even if there are more staff, there will always be increased chances of errors due to manual processes.
So, by automating the processes we deal with these processes head-on.
When the processes are automated, they are more accurate and faster, thus making them easier to scale and even cheaper with fewer staff.
Nearly 42% of business leaders come to a consensus that automation brings in faster workflows and cuts down labour costs. And half of the business population agrees that automated processes have fewer errors compared to manual processes.
If you are new to automation, a few examples of what you can automate includes purchase orders, invoice creation, and sending, email marketing, employee onboarding, etc.
A successful automation plan can yield-
Operational efficiency: Paperworks is a real-time killer in addition to other administrative works. Business process automation is less time-consuming and reduces the time taken for completing the manual works.
For example, if the sales team is freed up from spending hours on spreadsheets, then they can close on more leads and being in some real business.
Accuracy: When there are manual processes in work, there are even higher chances of introducing errors. Bad data can cost a lot to businesses. To avoid entry of this bad data into your business system, automation is your saviour.
Visibility: With automation in place, you can track all the business processes, team, any upcoming deadlines, HR resources, and much more.
Shorter turnaround time: With improved visibility of all processes, you get a chance to better problem-solving opportunities. You can know about the situation in advance and deal with the crisis at the earliest.
Employee satisfaction: Business automation can give your employees a fulfilling experience. The jobs become more engaging and satisfying when their manual works are automated.
Better customer experience: The business clients also benefit from automation. They can find answers to their questions or automation errors in minutes without waiting in a long queue.
How to create business process automation?
It's always better to start with one area of your business and then scale up. Thus, the first step is through the custom solution. This can help you out if you have a complex legacy that is not prepared to integrate with other systems through APIs. Though many of you will opt for RPA or robotic process automation; however, this extends your shelf life for a short term. What exactly suits your needs are the custom-built solutions.
The second method is cheaper that includes scripting, point-to-point integrations, which allows automation. For example, with Zapier you can generate a salesforce record from a spreadsheet. This reduces the data entry work. This can only be beneficial for your business if you need automation in few areas. There can be downsides as well, if you don't understand the integrations, it can be a mess.
The third method is implementing visual, low-code automation software. These business process automation technologies integrate with the existing system that the client has with low-code forms and dynamic workflows like the Zapier and Integromat.
Business process automation expert, like Cloudify, has the remedy to all pitfalls in your manual processes and automation issues. Cloudify offers a one-stop go for businesses to automate their workflows. Cloudify offers managed solutions that secure, optimize, and speeds up the whole business process through the cloud adoption journey. It provides an end-to-end solution from analysis, implementation, and automation, where the experts handle the complete process of automation. The whole implementation and integration process is cost-effective and security-centric that addresses the day-to-day challenges faced by the businesses due to lack of automation.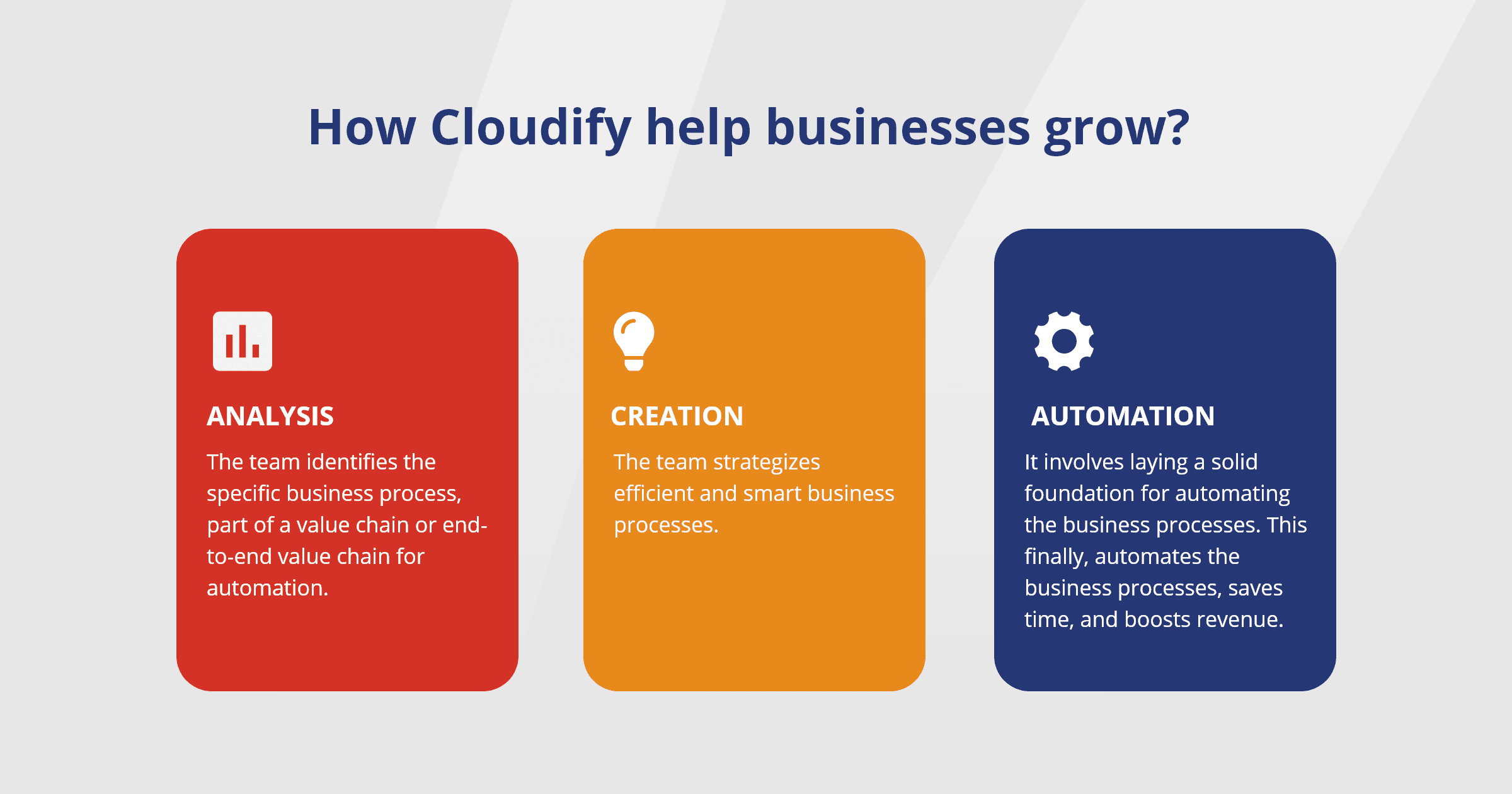 How Cloudify help businesses grow?
• Analysis: The team identifies the specific business process, part of a value chain or end-to-end value chain for automation.
• Creation: The team strategizes efficient and smart business processes.
• Automation: It involves laying a solid foundation for automating the business processes. This finally, automates the business processes, saves time, and boosts revenue. Here, you can run your applications together on a single platform or a cloud-based environment.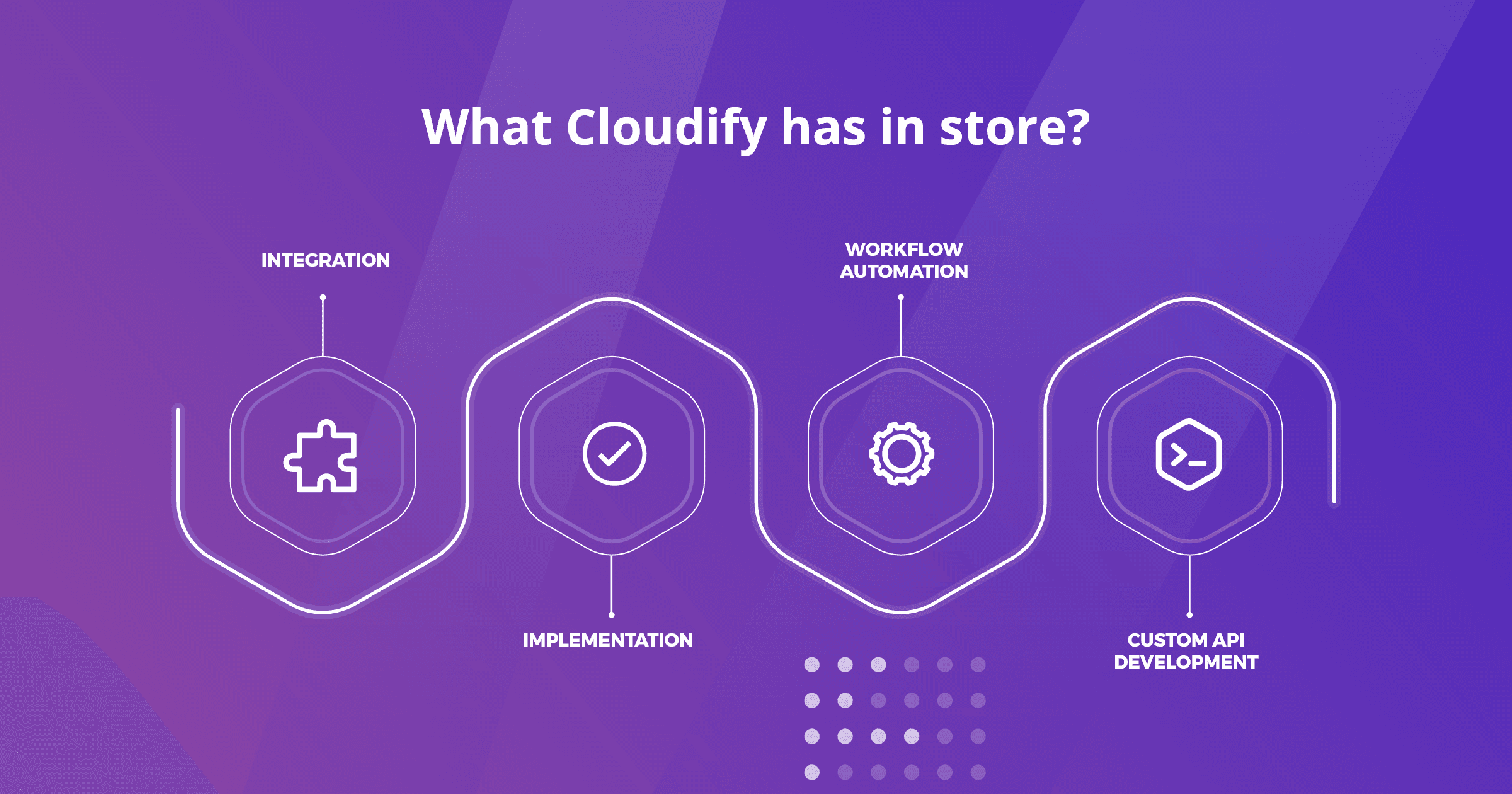 What Cloudify has in store?
• Integration: Integration of your SaaS applications can not only save your lost time but also increase your revenue by saving hours of man time. It creates a smart and intelligent workflow, which generates massive productivity.
• Implementation: Cloudify helps choose the right SaaS product for the business and implement it, which helps in optimizing the business landscape.
• Workflow automation: Workflow automation connects all SaaS products used by the business, thus boosting productivity through task automation. The task involves automation like that of eCommerce automation, marketing automation, invoice automation, and so on.
• Custom API Development: Right from the integration to development, everything can be customized as per the client's business needs. This process begins with an analysis of the business and the client's requirements, to find out which APIs can align with it. Then the coding is done that undergoes rigorous testing, proving it clean and well-structured.
Doing the automation in Cloudify's way
- Decide which apps you want to integrate from the packages available on Marketplace. Marketplace by Cloudify is a new launch that offers managed automation for businesses by the seamless connection of the Apps. The platform gives the businesses freedom to customize their automation based on their requirements.
- To know more about the automation and which apps we support, you can have a quick and free 30 min consultation with the automation expert.
- Process automation calculator is a no-code process automation calculator that helps you predict your potential savings by letting you know about the yearly effects of the business process automation. his calculator helps the client determine the suitable package based on the tasks completed per month, work duration per task, and labour cost involved.
- Choose a plan that best suits your needs and get yourself an onboarding session booked with our automation experts.
- All relevant details and data will be collected by our expert. Based on which the automation will be set up.
- Once the automation is in place, the client gets a notification of it.
You have witnessed the myriad of ways how business process automation can be applied starting from inventory management to automating every single task to cut out the manual processes that go in favour of error-free operations.
If you are looking forward to cutting back your costs of the clunky manual processes, Cloudify offers a comprehensive and cost-effective solution that enhances your staff's efficiency and customer experience.
Content Developer
Meet Pernille, a skilled content writer with a specialization in the field of business automation and the IT industry.
Expertise
Process Automation
Artificial Intelligence