No matter the size, market share, or nature of businesses across the globe, each one would agree to the wish and choice of having to stop catering to monotonous and tedious tasks.
Carrying a handful of lengthy processes, which often take weeks to months, or more, businesses need access to a fix-it-all software that allows them to bring tasks from all places under one roof and implement them as all, based upon their categories and what functions do they serve for the business.
This is where automation swoops in, taking charge of granting humans the little freedom that they can and deserve to get from recurring and crucial tasks. Implementing automation into your business system might seem like a prolonged and tiresome chore in itself, doesn't it?
How about this– You get all your business automation managed and implemented within a short and specified span of time. That too, without you needing to know how to code.
Sounds interesting, right? It sure is! You might as well want to join us today!
Let us swim through the five business processes that you need to automate today, which will proffer the maximum convenience for your smooth workflow and growth.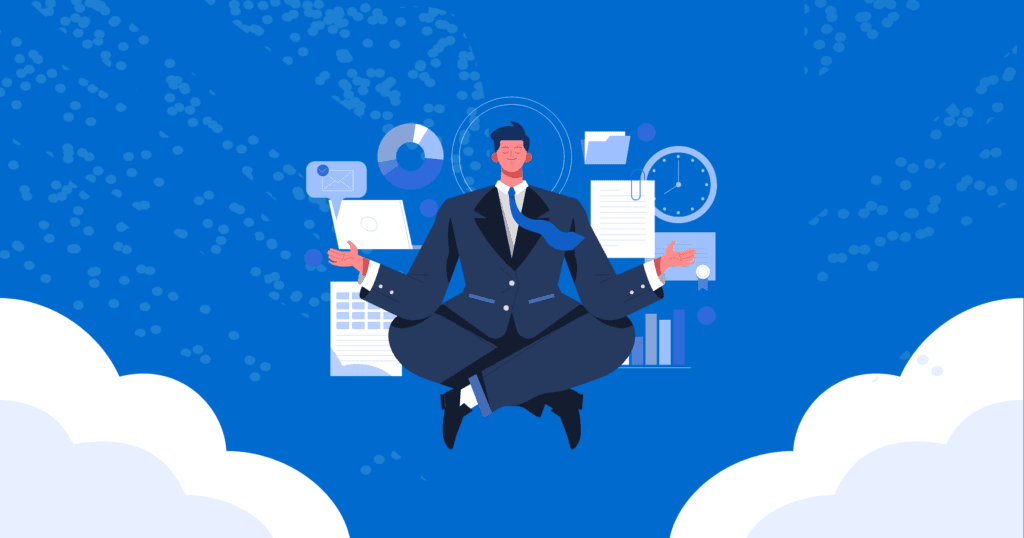 Business Process Automation, often referred to as BPA, automates complex and recurring tasks to get them executed by a system to minimise or replace human efforts, which results in streamlined processes, a reduction of operational costs, and ensuring error-free work.
Still not convinced into why you must take the step forward to put your time, thoughts, investment, and decision making into automation?
Well, here are the great deals you crack by choosing BPA-
Low Operational Costs
Automation enables an enterprise to limit or lower its workforce by having systems take over the repetitive and mundane tasks that are otherwise allotted to employees. Doing so helps the firm save on the cost of human labor and the cost of materials and resources required by the employees/workers to carry out and complete tasks.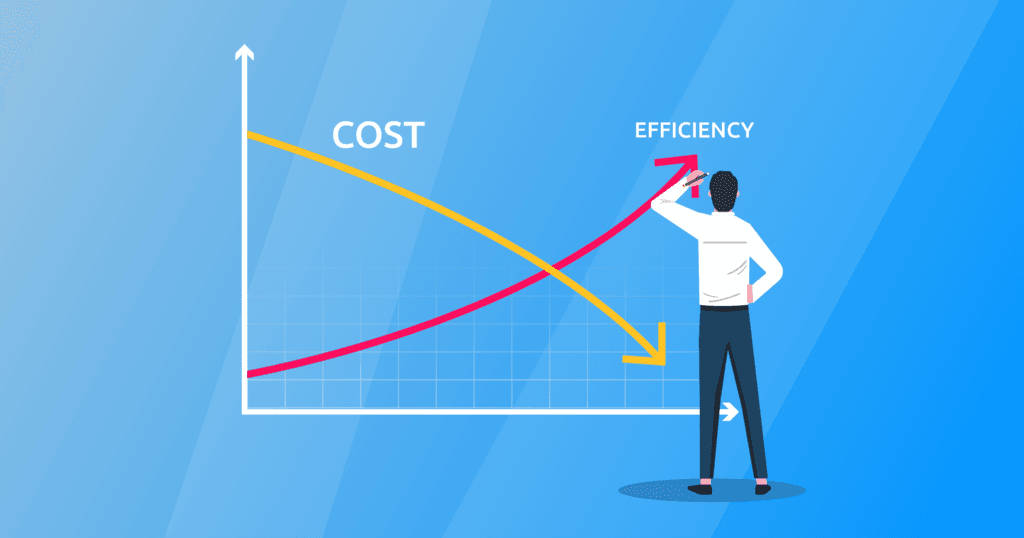 Increased Efficiency
The human brain, however fast it may work, does not hold a candle to a computerised system when it comes to getting work done in the same amount of time, leave alone doing it faster. With manual effort, tasks become error-prone due to their repetitive and boring nature. Whereas, a system provides comparatively fruitful results by filtering the boring jobs, utilising the usage of resources and time accurately without wastage, and offering high productivity with increased efficiency.
Higher Customer Satisfaction
A customer is like the judge at a fancy dress competition who you have to win over anyhow by proving your outfit has it all. Just like that, your customers are who you have to connect to and win. Automating your business is a huge win for you when we speak of customer satisfaction. This is because there is no scope for placing reminders to send follow-up emails, catching deadlines, replying to emails, generating a welcome email, calling to ask for feedback, or errors that would make your customer support weak.
Now that you have a basic outline of why your firm needs BPA, let's dive into the key processes that you need to automate ASAP.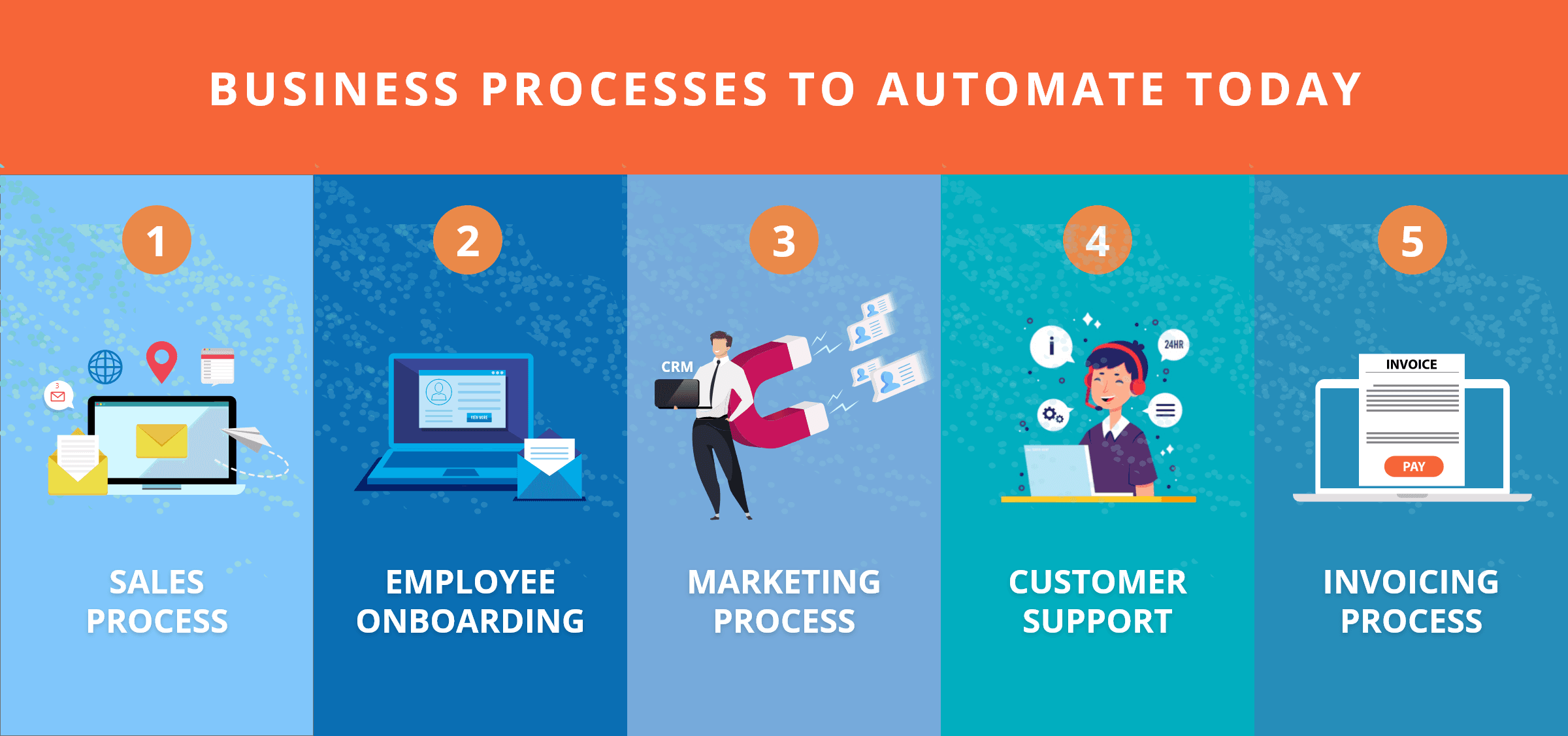 Sales Process
Sales personnel love selling and closing deals! However, sending emails, filling in about their daily tasks, and doing paperwork sure isn't a part of this. Automating your sales process can be of huge help to your sales rep by cutting down their time and energy spent otherwise on these tasks.
Automation lets them create email templates with an option to customize signature and/or information. With proper lead update and distribution, you can automatically assign leads to your sales rep without any lengthy paperwork. Alongside, your sales champ can send daily reports of their tasks and activities without any data entry or individual collection of data, which will help you monitor their performances.
Employee Onboarding
It might seem a piece of cake to those watching from a distance, but the process of onboarding the employee can be a tiring and stressful one. Right from recruitment, sending an offer to its acceptance, creating workstation and responsibilities for the new employee, getting other departments involved, induction, and assigning work– a lot takes place, which can quite often look all messed up due to several intricate processes lying in between.
An employee doesn't want to let go of his/her time by waiting for someone to show them around. Instead, they would want to make themselves comfortable with the company's environment, work culture, and colleagues.
Automating your employee onboarding process lets your new hire onboard themself by filling in details or with an e-sign with the welcome mail sent to them. This would notify the other departments to prepare for the induction, assignment of tasks, and create a user account for the employee.
Customer support
Customer support is one of the most crucial processes in a business. Interacting with customers, replying to FAQs, or helping them navigate through the website could take up almost all your time while having your customer support executives on the line 24x7, which doesn't seem rational enough.
With cases of exception, like, where a customer seems to have a problem that needs a personalized solution, automation pretty much covers everything that makes it easy for your customer to get help & support from documenting answers to FQAs in advance, creating chatbots, designing help centers, or constructing a PDF for all their doubts and queries.
Marketing Process
Introducing your marketing process to automation helps the marketers make proper use of it to nurture leads, ripen them, and forward them to the sales team. Connecting your Customer Relationship Management (CRM) with marketing automation focuses on gathering data about existing customer accounts and creating personalised experiences and communications with them. You can just remind them about their shopping cart that hasn't been checked out yet or the back-in-stock items that they eyed on. It also enables you to handle pipelines for new customers and keep them interested and updated with the weekly newsletter or timely subscription emails.
Invoicing Process
What can be the most possible laborious and dull part of an invoicing process for your accounts payable department? Doing all the paperwork, often abhorred data entry, and requesting the invoice copies. Needless, having automation software enables your AP team to extract verified data and update it to the system. Moreover, your business will be saved from all the errors, inaccuracy of data, duplicate, incomplete, or multiple payments, which can deteriorate your financial records in unimaginable ways.
Automating your business process doesn't mean and in no way is a route to detach the workforce from your business. Certain tasks that require the involvement of human effort for decision-making, cognitive abilities, and reinforcement of values and thoughts remain untouched by automation–and that is what gives an organization its much-needed human touch.
Cloudify assists firms in creating a balance between the usage of machines and humans by helping them automate and manage their integrations without removing the manual element that has led to growth in all dimensions. Sign up with us for a free consultation with one of our process automation consultants.
Content Developer
Meet Pernille, a skilled content writer with a specialization in the field of business automation and the IT industry.
Expertise
Process Automation
Artificial Intelligence