In today's competitive world, no matter how excellent your business's services or products are - the only factor which contributes to long-term growth and success is the ability to create, implement and execute successful sales strategies.
But you can't create a world-class sales strategy in the blink of an eye, they are the result of thoughtful planning with paying attention to detail and sufficient amounts of A/B testing of trials and errors. 
According to an industry insider, surprisingly, today's businesses are operating with poorly defined strategies for increasing sales. More than 50% of businesses operate without any predefined digital marketing strategy. They lack the clear and concrete sales strategies required for operating their business.
But for implementing sales strategies that work for them, business owners and sales management need to educate themselves about different types of sales strategies. They should also keep an eye on their competitors to discover proven sales strategies that are working for them.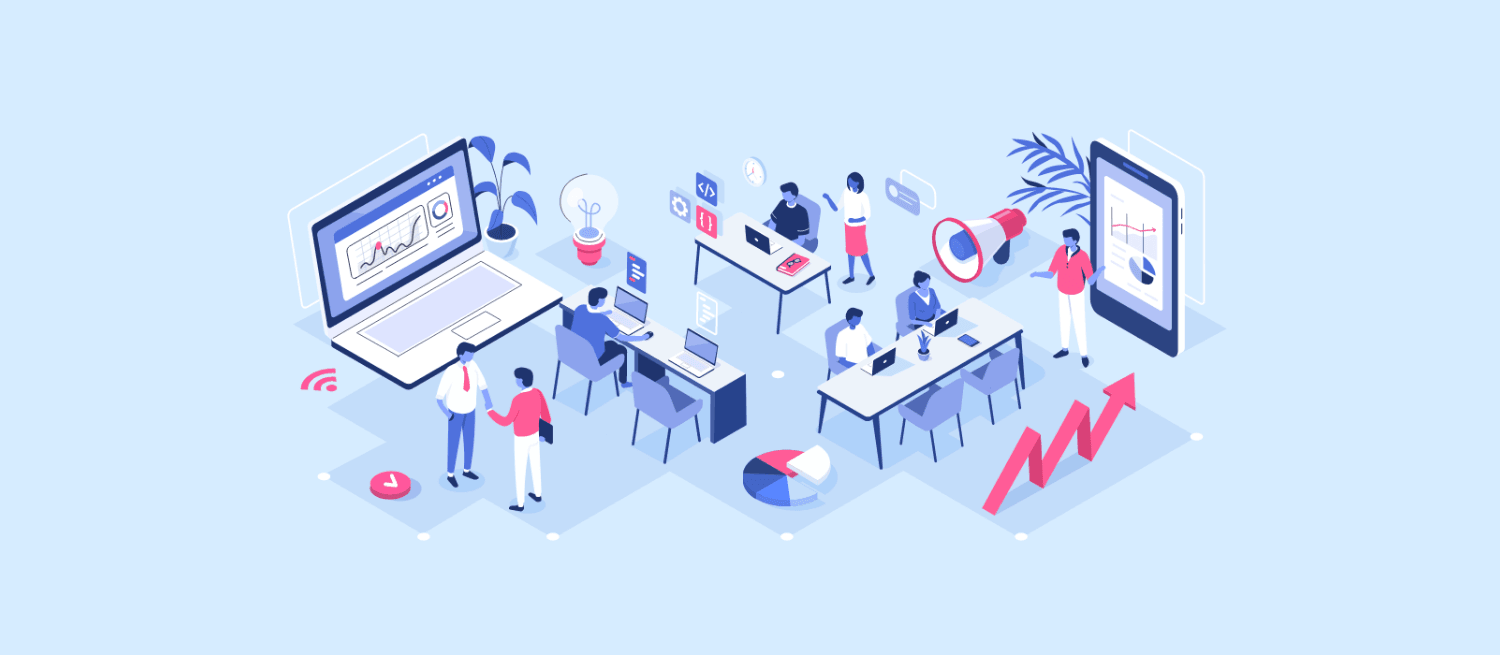 Planning is the most crucial part while creating sales or marketing plans, which is carried out at both micro and macro level.
You need to develop broad mission statements and objectives that align with the day to day activities.
Two steps to keep in mind while planning a successful sales strategy:
1. Identify your value proposition
2. Define your marketplace
There are three types of plans in the management and here's how they work.
A strategic plan is an overview of the business, its objectives, values and vision.
It is the foundation and will dictate decisions in the long run.
It should be forward-looking, flexible and should focus on future growth.
The critical components of any strategic plan are:
Vision
Where does the organisation see themselves in the next five years? How it wants to influence the world, some realistic visions that are achievable.
Mission
The mission statement is like a more realistic overview determining the company's ambitions and aims. Why it exists and what does it aim to achieve.
Values
Have some concrete values, like you will not scam your customers. Provide value for money services and products. It helps in building goodwill and achieving long term goals.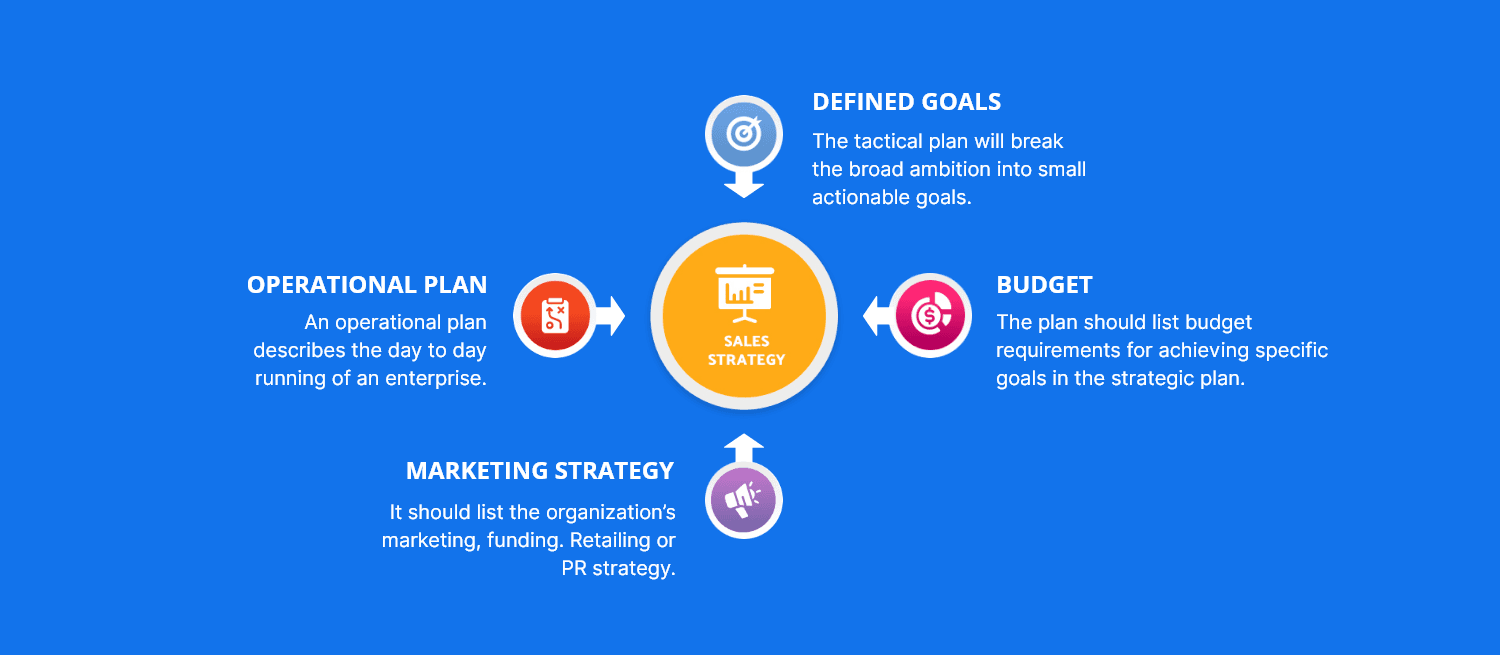 It describes the tactics an organisation plans to use for achieving the ambitions outlined by the strategic plan. It is a short term plan that breaks down broader missions into small actionable ideas.
Some components that must be there in a strategic plan:
Defined Goals with Fixed Deadlines
Imagine you want to become the largest ice cream retailer in the city.
The tactical plan will break the broad ambition into small actionable goals.
They should be specific with fixed deadlines - grow 25% per quarter, or increase revenue to 1 million within one year.
Budgets
The plan should list budget requirements for achieving specific goals in the strategic plan.
It could include the budget for marketing, manufacturing, sourcing or hiring personnel. Listing revenue outflow/inflow could also be included.
Resources
The tactical plan should have all the resources you need for achieving the goals. It should include human resource, cash or Ip etc.
Marketing, Funding
Finally, it should also list the organisation's marketing, funding, Retailing or PR strategy, it should also align with the goals that have been outlined.
An operational plan describes the day to day running of an enterprise. It gives a roadmap for achieving the tactical goals with a realistic time frame.
It should be highly specific with a strong emphasis on short term objectives like increase sales to 150 units in a day or hire 50 new employees.
They can be either single-use or ongoing.
Single-Use Plans
These plans are created for activities/events within a single occurrence. It could be a one-time marketing campaign or a sales program.
Ongoing Plans
These plans could be used in multiple channels on an ongoing basis. The current plans for different channels could be different, and they can be repeated or changed when required.
Operational plans help in aligning the organisation's strategic plan with the day to day running of an enterprise. It is a point where macro meets micro.
To run a successful business - you need to pay equal attention to broad adjectives but also about how they are met regularly.
Read more: Using Your Sales CRM for More Than Sales
Each sales strategy plan should be custom tailored with intent and industry, and the plan should act as a guide to each decision throughout a business process. Starting from lead generation to hot prospects and clearly defining KPIs that guide sales representatives throughout the process.
Though many entrepreneurs believe that the key to achieving more sales would be better marketing - even though marketing is essential for building the brand and getting your services or products seen by many potential customers.
But the fact is the marketing strategies should align with your sales strategies for generating sales leads and revenue.
People are now focusing more on inbound marketing, which is a sales methodology that prioritizes the goals, challenges, needs and interests of consumers.
Unlike other sales strategies it is not pushy and works to meet consumers where they are while guiding them throughout the process.
The right mix of both outbound and inbound sales is necessary outbound could be sourcing leads and whereas inbound could be the act of following up.
The right mix of both inbound and outbound sales tactics is necessary to truly grow as a company.
In some ways, you could consider outbound sales as synonymous with prospecting: it's the act of sourcing leads whereas inbound sales is the act of following up with and nurturing those leads.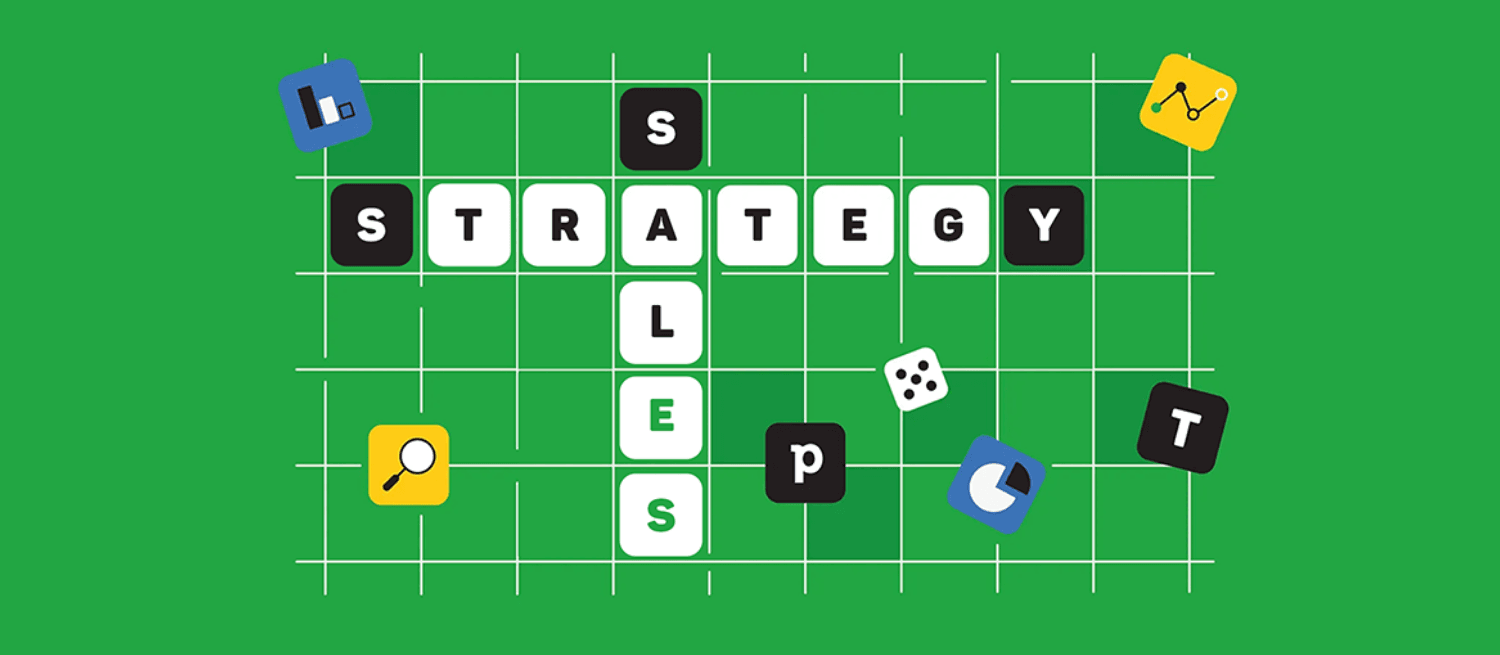 We will help in aligning your business goals with sales strategies, with the right guidance and tools inbound sales can be implemented in an organisation of any size.
We are official partners with HubSpot and [Pipedrive](What is Pipedrive?) and can help you in establishing some of your inbound marketing along with the sales process.
Content Developer
Meet Pernille, a skilled content writer with a specialization in the field of business automation and the IT industry.
Expertise
Process Automation
Artificial Intelligence