A functional Sales CRM ([Customer Relationship Management](Choosing the right CRM for your e-commerce to Work Smarter, Not Harder)) tool should just be specific only about sales but should be able to serve to many parts of the business cycle, facilitating each department in the company to improve their efficiency.
When many teams are working together and using different tools, there is a scope that a lot of stuff can fall through the cracks while failing to translate important information from one system to the other.
Let's dig deeper into what we are talking about!
When it comes to CRM, it's a collective term for each type of structures and systems your company uses for guiding relationships and interactions with customers. It does not only involve the guidelines on direct communications but the systems as well for tracking and organising important information including proposals, meetings, sales and conversions etc. CRM pulls together and gives an overview of how well or poorly the relationships with customers are going, who's handling what and how it is affecting the business. A CRM system pulls together lots of data, showing your business how well (or poorly) the relationships with customers are being handled and how that's affecting your business.
The main purpose why people use CRM is to automate certain aspects of sales and speed, accuracy and efficiency. This is the basic idea that people have when they implement CRM.
But in this article - we are just clearing up the tried and tested and adding on some more unusual ways to use a sales CRM, from strategic marketing, sales management to competitor tracking.
We will also throw some light on how to use a CRM for increasing profits effectively, let's roll with some surprising information that we have gathered to skyrocket your business.
Sales managers are the people and leaders who generally reap benefits from adopting CRM.
As they get better visibility of the team's activities and being able to do general tasks like Forecasting and reporting quickly and easily are the most obvious benefits. Now what was done by managers is now shared amongst all the team members. Let's look at these three jobs and how to use CRM to enhance efficiency: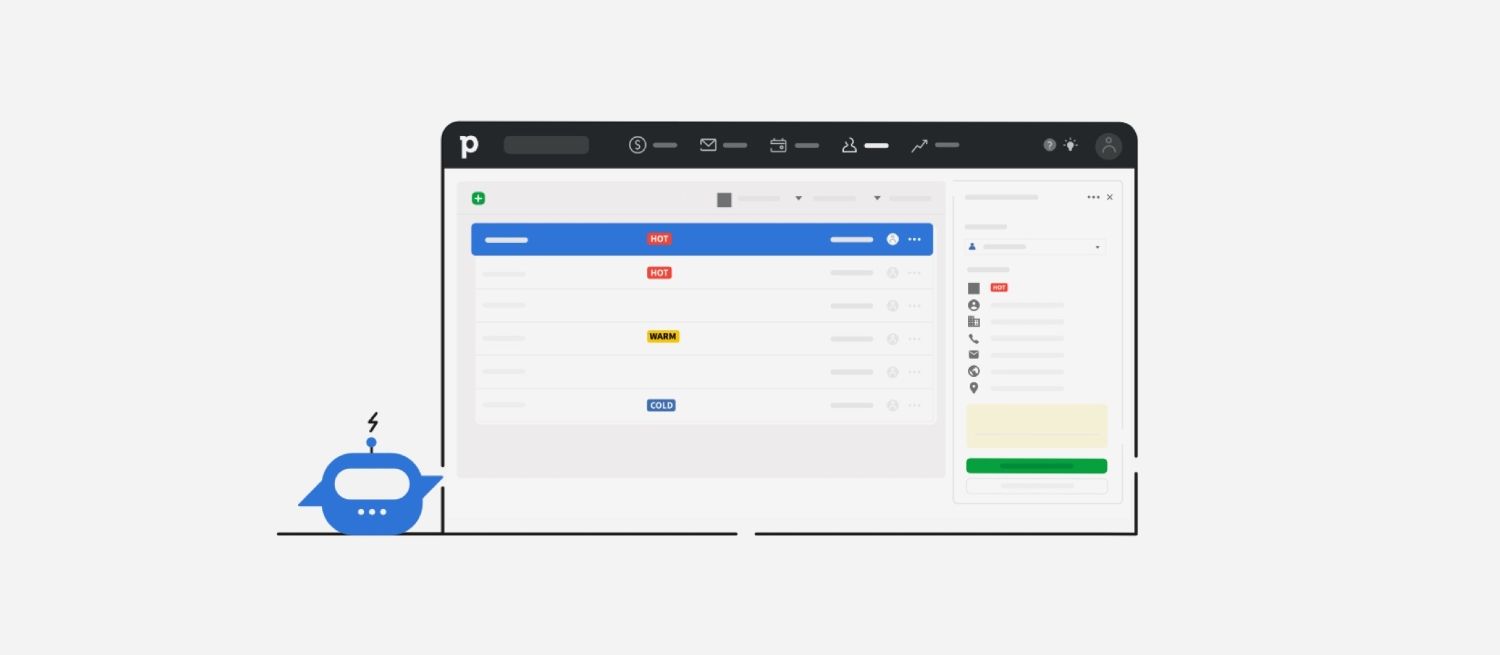 Sales Prospecting
Quality leads are what a sales team needs and getting them is only possible if you have a good prospecting strategy. It involves numbers and predictions, and the need for a CRM automatically comes to the picture.
For prospecting at a scale, you will need to automate some critical areas of the process.
Whether you're using emails, phone calls or any other way - capturing prospect's data and organizing easily and effectively, meanwhile handling it over to your sales and marketing teams is of utmost importance.
Pipedrive has plenty of prospecting features like converting email addresses to contacts automatically, and then the marketing efforts could collaborate with integrations with a third party tool.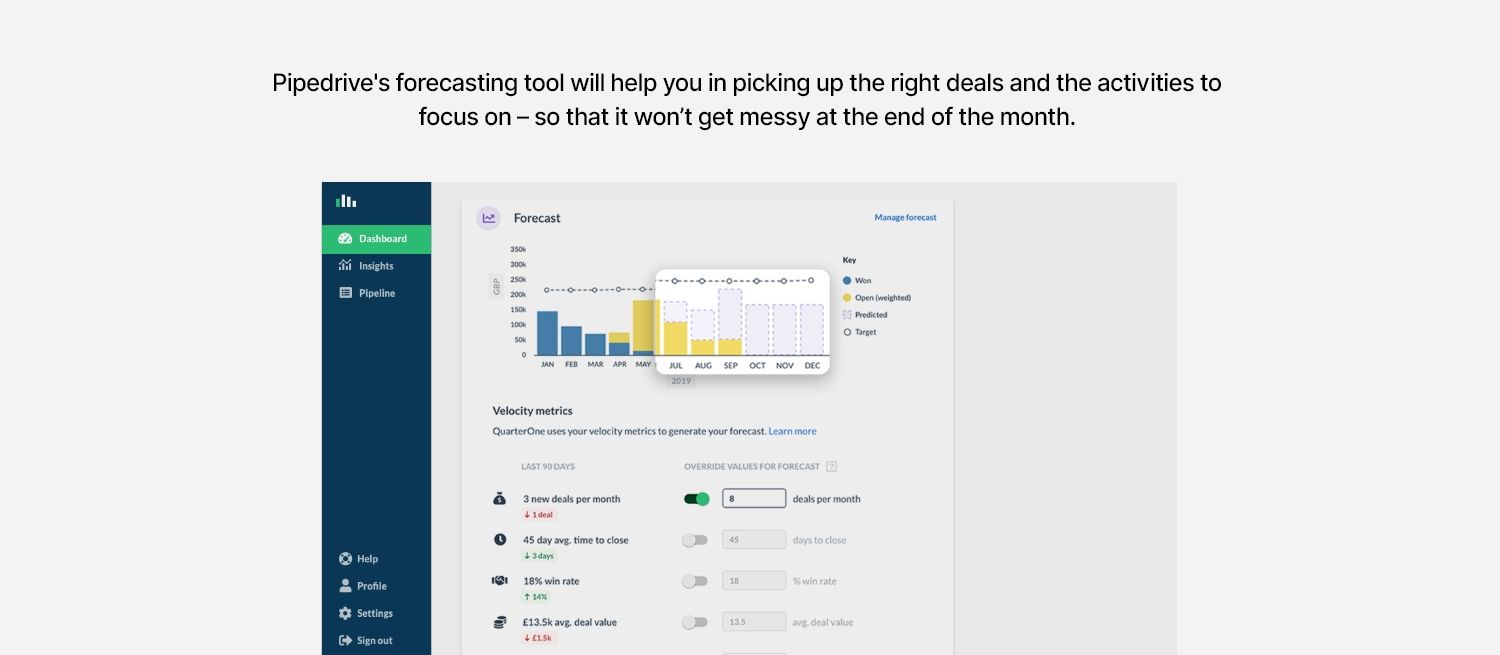 Sales Forecasting
Become a better salesperson and close more deals with Forecasting. It is an excellent feature for both Sales managers and salespeople.
Pipedrive's forecasting feature is none less than a personal sales manager, the best thing about it is that - it won't fire you for not making targets.
It will help you in picking up the right deals and the activities to focus on - so that it won't get messy at the end of the month.
Pipedrive's Forecasting Feature
Allows highly effective Forecasting
Is useful for salespeople and managers alike
Is customisable to suit your needs
Sales forecasting is a critical element of any sales strategy, and this is where Pipedrive systems come on its own.
You can see ongoing deals arranged as per their closing date against the deals you have chosen to be compared with, and this will help you in figuring out what should be done before it gets too late, work on deals that are likely to close soon and find new deals for working on.
Keep everyone in your business on the same page with Pipedrive's Insights Beta feature, which enables you to share the insight dashboards with clients, managers and colleagues even if they do not have a Pipedrive account. You can also showcase the numbers on your office screen or during presentations for encouraging competition and helping everyone track the progress towards goals.
Insights enable you to create custom, interactive reports and dashboards meanwhile providing you with deep insights about the data you need for completing the picture of your sales success. No more static screenshots of reports, share live insights in meetings and presentations. Assess every team's dashboard in company meetings. If you're a reseller, inform clients how their products are performing with your customers.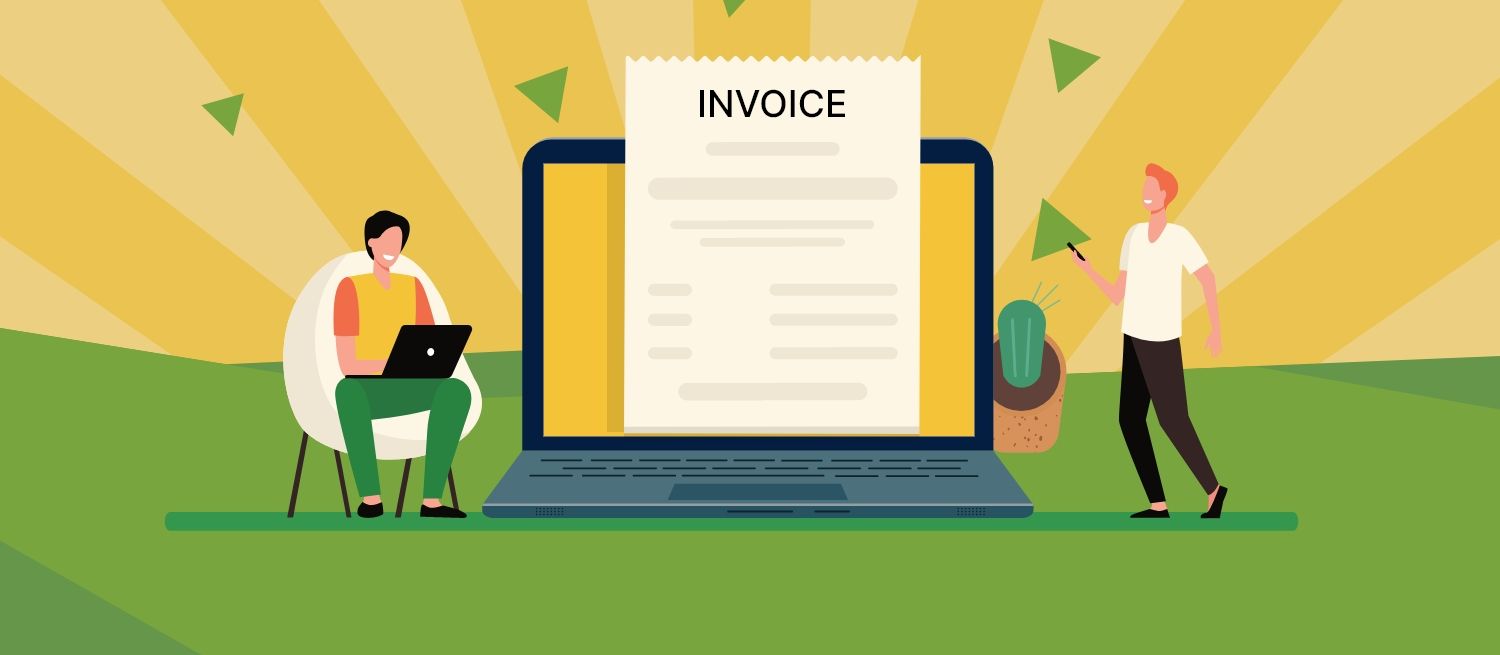 Many people are in the wrong impression that CRM is only for tracking initial sales, but in reality, you can use it for building stronger relationships and upsell as well.
The job does not get done once you close a deal, churn is also the enemy of growth. You should use your CRM for managing the entire customer journey for helping you in increasing revenue.
And the major part that comes when you close a deal is sending in an invoice if done manually - it could hinder the productivity of your sales team. Whereas when it comes to CRM - you can actually automate the whole invoicing process.
Simplify the invoicing process with Pipedrive and accounting software like Xero, e-conomic or QuickBooks integrations. No matter wherever your leads come from whether Pipedrive, web forms, excel or e-commerce, cloudify's invoice automation works with multiple systems and can automate invoice creation process from within Pipedrive. No more copying and pasting data from one system to the other system, save time and improve efficiency.
We understand you need a simple, easy and visual CRM for managing your sales Pipeline, but it does not have to end there.
According to us any process, which requires a structured series of stages, actions or repetitive steps - can be easily automated and managed with a Pipeline CRM.
When you combine it with an activity-based approach to management, you can easily speed up almost any process in your business. A successful activity-based plan is built based on knowledge and the steps that you should take every day.
BOOK A FREE CONSULTATION with our CRM experts to know more.
Content Developer
Meet Pernille, a skilled content writer with a specialization in the field of business automation and the IT industry.
Expertise
Process Automation
Artificial Intelligence