SaaS Integration: What is SaaS Integration and Why Do You Need It?
It's 2023, and we're living in a world where SaaS isn't just an add-on but an integral part of running businesses - a world where SaaS isn't just a solution but a revolution in business operations.
Are you an entrepreneur, a technology enthusiast, or a business mogul? Are you still questioning whether to move your business applications to SaaS? If so, you've landed at the right place. Let's explore the fascinating world of SaaS integration and uncover how it can truly transform your business.
If yes, here is something real for you!
Let's dig further into this and try to understand how easy integration of SaaS products can change your business altogether.
Towards the end of this post, we shall also examine what your business can actually gain out of integration of SaaS products.
SaaS Integration is the process of connecting multiple SaaS products to streamline workflows and business processes. When you integrate your CRM with your email marketing tool, you've effectively created an efficient information flow across different channels. As your organisation's SaaS usage expands, so too does the need for integrating these SaaS products, making sure you're not left playing catch-up with data from multiple sources.
For instance, won't it be cool if every time someone responds to your Typeform, you have a new Trello card created?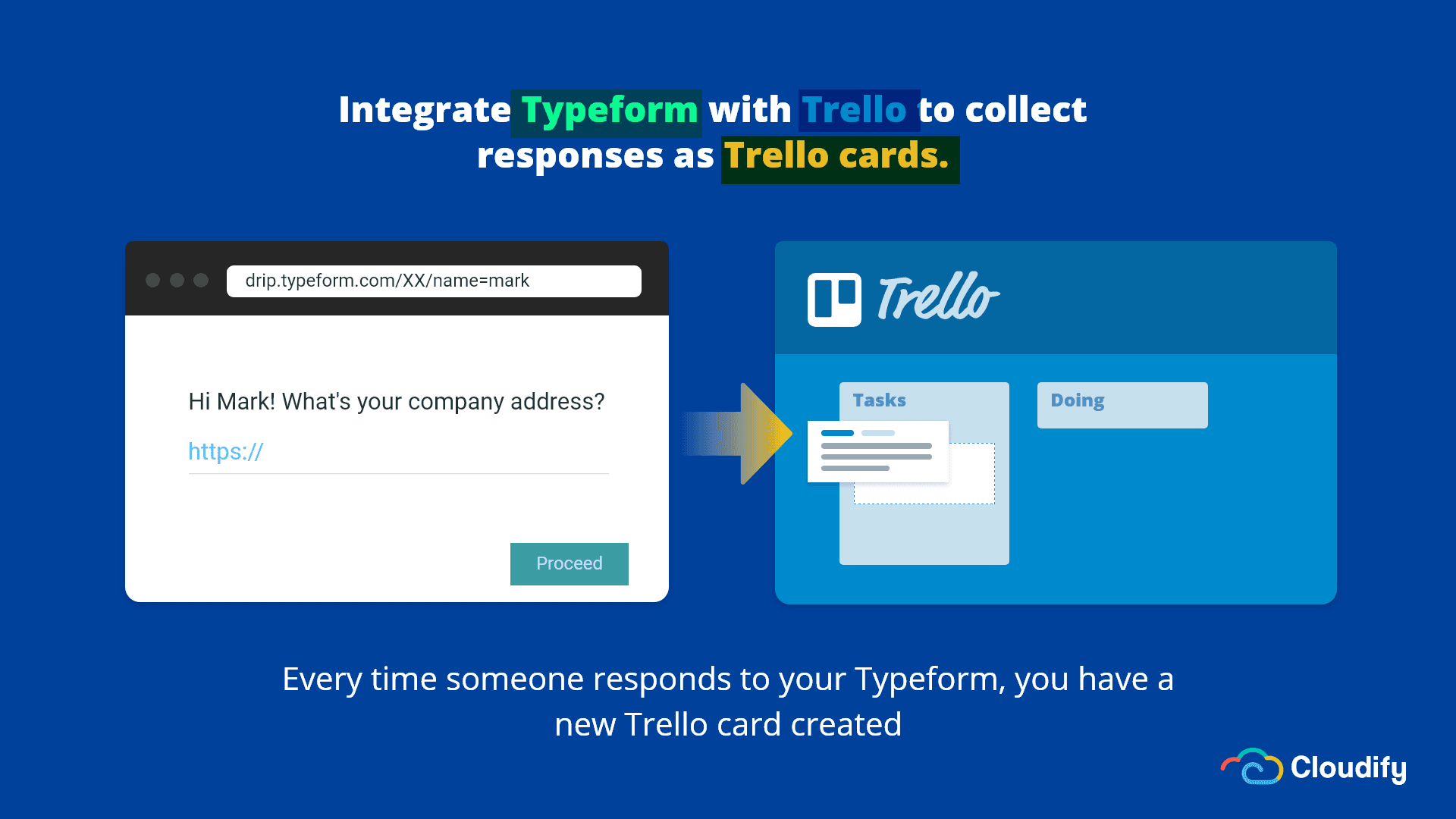 That's the essence of SaaS integration.
The SaaS Revolution Change is the only constant, especially in the business world. You need to adapt, or you risk becoming obsolete. Back in 2008, only 12% of businesses used cloud-based apps. Fast forward to today, having your own software is a dated business model. SaaS has revolutionised the way businesses operate, offering flexibility, adaptability, and most importantly, ease of integration.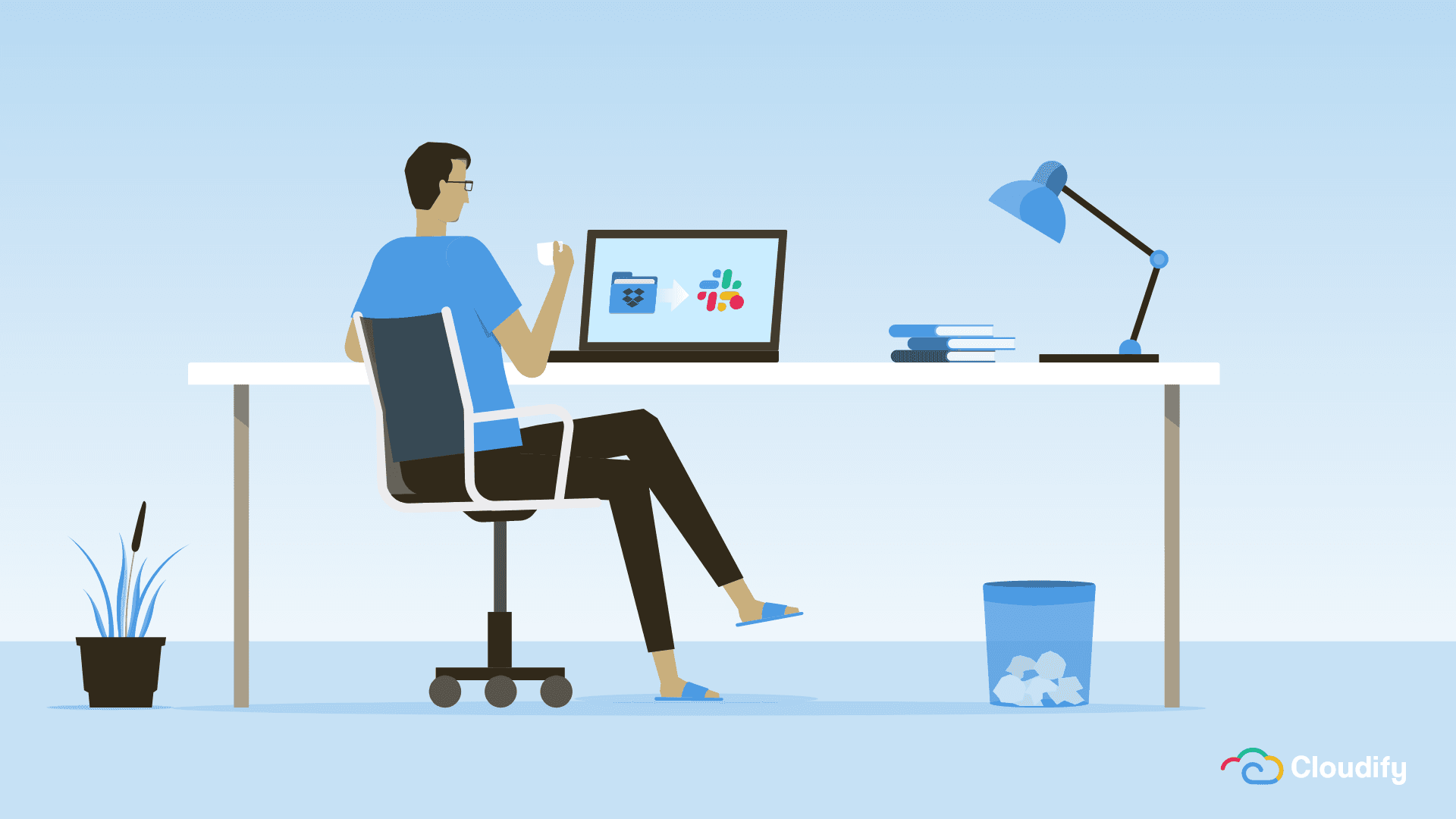 But today, we see a lot of SaaS products integrated in a way that we can't see them functioning alone.
A nice example would be of Mailchimp automatically talking and sharing data with all the other applications you use. Yet another example is getting a Slack alert every time there is a new Dropbox file.
All of this seems to be hunky-dory, but serious brains are at work behind this.
Seamless integration of SaaS products boosts productivity like nothing else. It takes a lot off your plate and lets you focus on stuff that actually deserves your attention.
However, this SaaS integration ought to be easy. The USP of SaaS is that it saves you all the trouble that comes along with having your own software developed. SaaS takes solution management and maintenance out of the equation. It makes no sense to integrate various SaaS products and land onto that messy island again. Thus, you must have someone who helps deliver the results and service your customer's demand through strong (and easy) integration of SaaS products.
With each new customer comes the pressing need to support separate file formats. It's indispensable for businesses to give customers a range of protocols, connectors, options and data formats to get data into and out of the solution. And that's what makes SaaS integration mandatory.
However, you shouldn't be overwhelmed by the amount of maintenance this demands. It's true that integration of SaaS products allows businesses to drive better value and deliver results faster, but it should be easy and seamless. You must not have to deal with some super complicated and messy infrastructure that integration often brings along. The idea is to streamline your business processes and make things easier, not the other way around. You should not be lost all day long understanding the SaaS integration or fixing it or seeing if it's even working or not, while you miss important emails and updates.
Related use cases: Alertsystems | Vendemus | HelionB2B | Dansk
Workflow Automation
At least once while working, you must have wondered how cool it'd have been if you had the option to skip everything you hate doing without your boss figuring it out.
Statistics indicate that CEOs spend almost 20% of their time on work that could be automated. This includes analysing operational data and reviewing status reports.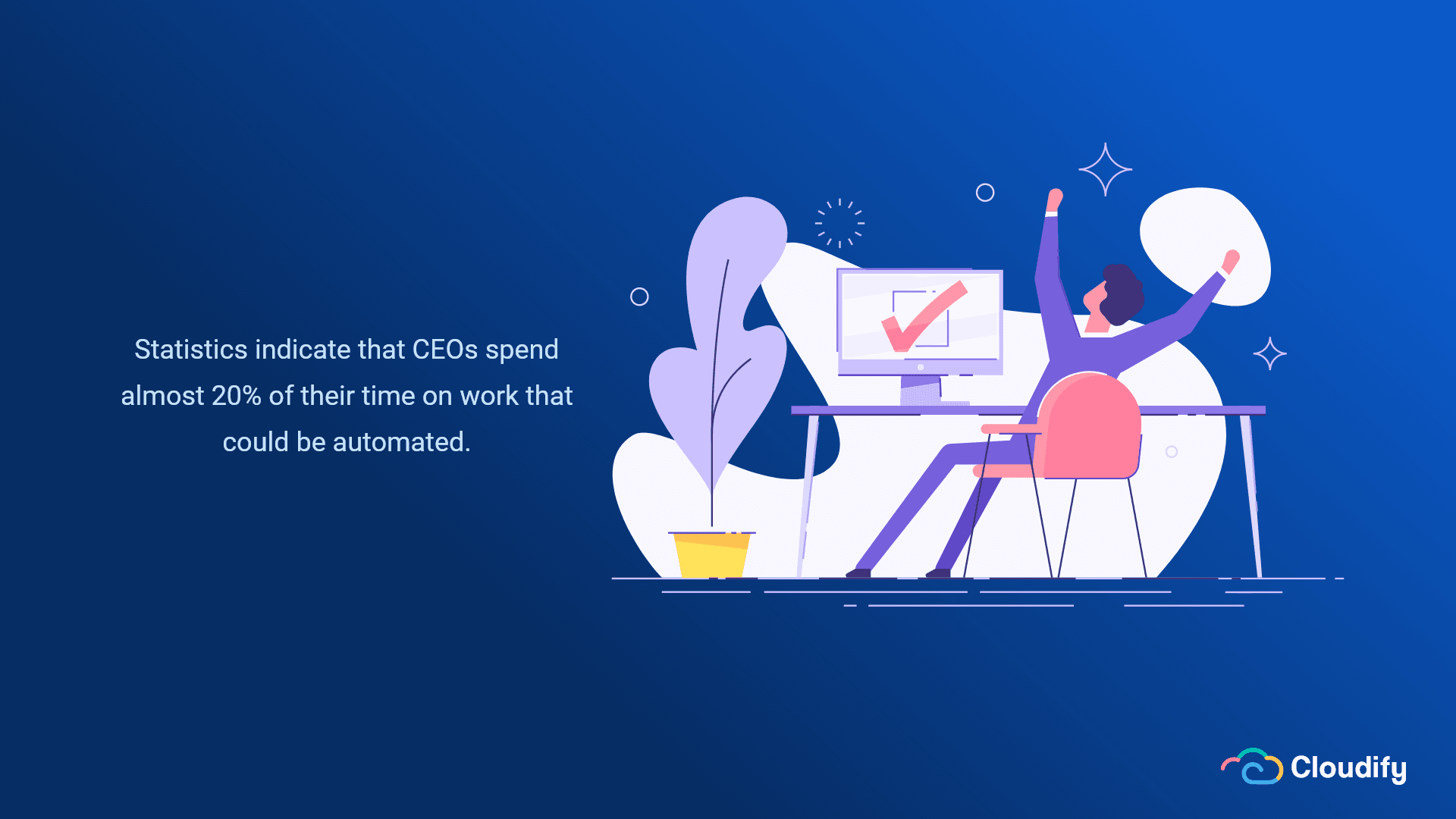 Seems like the boss also has a lot on his plate that he won't want to do.
That's at the very heart of workflow automation.
Helping you find time for stuff that actually generates value while leaving the monotonous, recurring administrative tasks to the computers.
We are living in an era where agility, flexibility and precise execution make all the difference. Because, what you have to offer, in all probability, at least fifty others also have.
If you are using Google Sheets for keeping a list of your clients and Trello for project management, won't it be good if every time you add a new client a new Trello list is automatically created with the client's name?
Or, if you are adding a new client to your CRM, won't it be great if the same data automatically gets migrated to your invoicing software?
That's what we mean by workflow automation.
This is a very basic example but this is how integration of SaaS products saves time.
Modern businesses, especially the ones operating remotely, use a stack of SaaS applications for seamless operation.
You have a CRM, an app for project management, another one to communicate with the team members, and then yet another for managing email lists.
Having to use all of these apps independently can be a pain. Integration takes this pain away.
It is expected that by the end of 2026, the global market for business workflow automation would bring in US$ 5,247.2 million revenue.
Better ROI!
What makes a successful business? Is it the best infrastructure? Or, is it how much you have invested or are ready to invest?
Do you feel that a business can be successful using limited resources as well?
The answer is YES!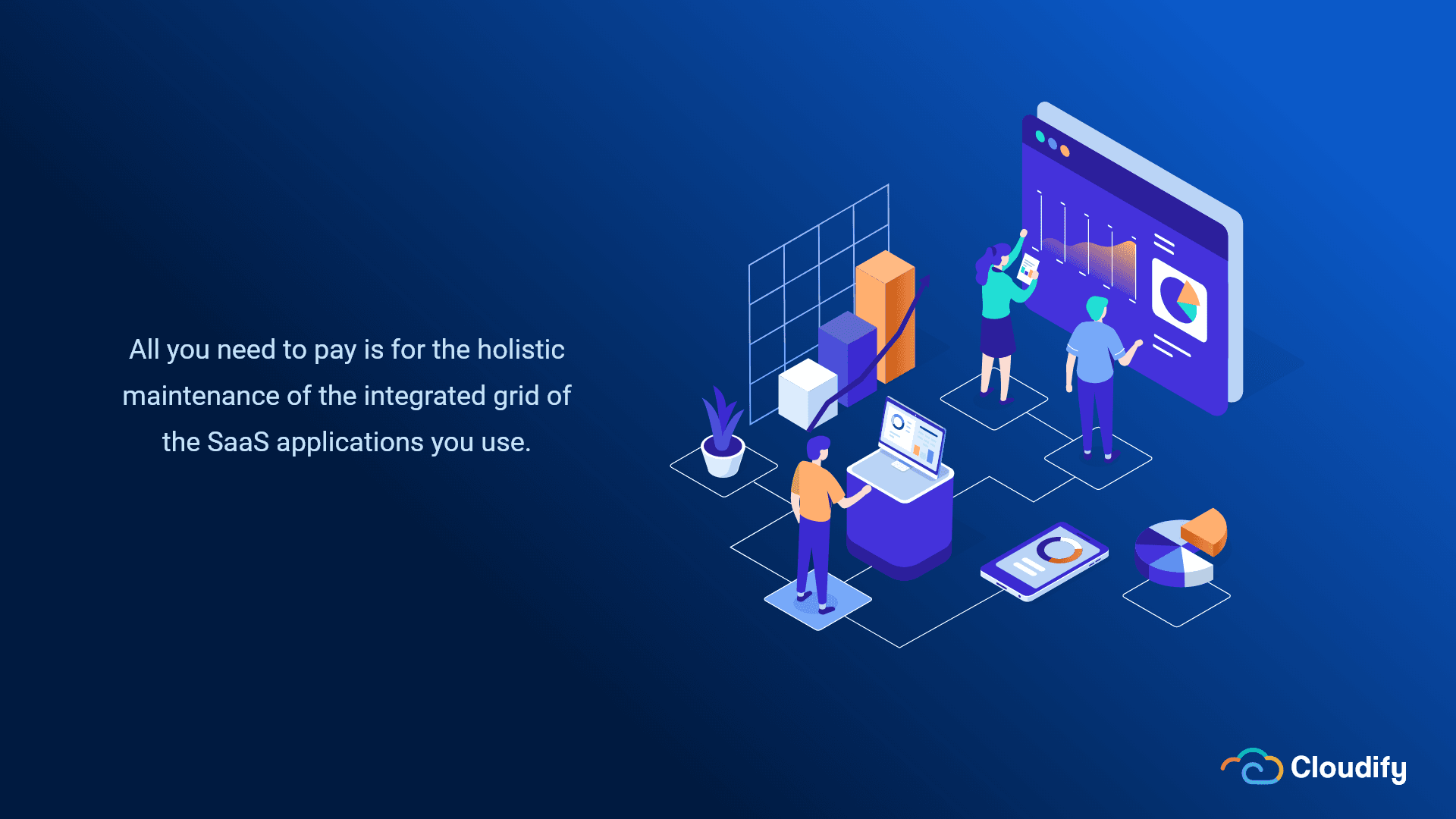 If you, as a business manager/owner, know where to invest your resources - you win.
If you understand and can visualize how to optimally use all the resources you have (human + material), you win.
Integration of SaaS applications allows you to increase your operational efficiency.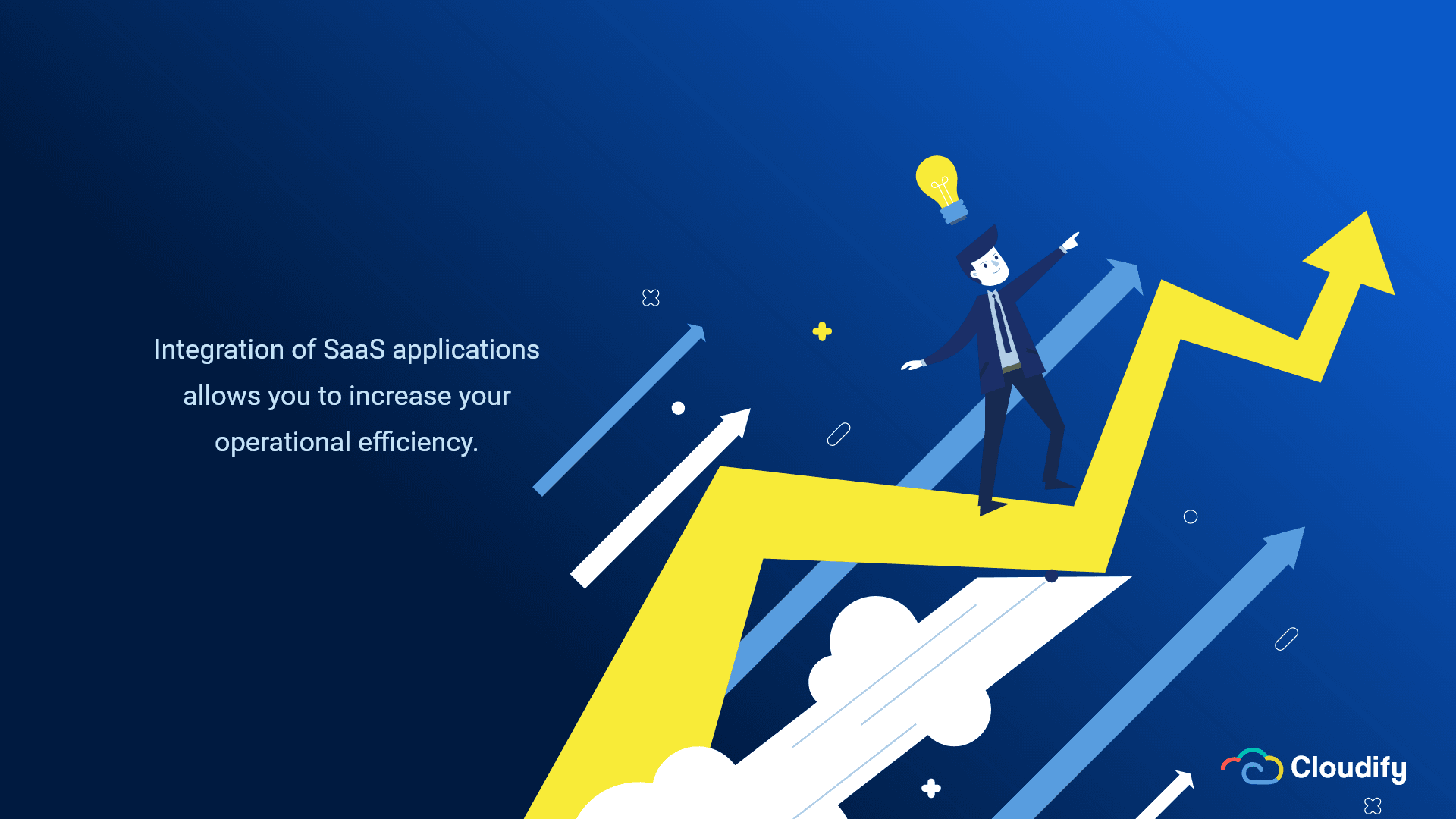 You have an improved employee experience. Your human resources are vested into tasks that actually matter.
You don't need to hire two full-time software developers just because one of them is unable to complete the tasks on time due to additional administrative duties.
And, not to forget SaaS integration lets you minimise the errors.
With everything automated, you can't miss any deadlines or updates.
Data flows freely between integrated applications without you having to worry about it or keeping a manual check on everything.
Businesses have been desperately looking for ways to boost performance. Integration of different SaaS products is the way.
No Larger Than Life Investment
SaaS operates on an on-the-go pay model. Likewise, if you have multiple SaaS applications integrated, you get rid of the individual IT maintenance costs or any upfront fees. All you need to pay is for the holistic maintenance of the integrated grid of the SaaS applications you use. This is pretty much like a monthly or annual subscription fee to use CRM as a service and a lot less than what it'd have cost you to have an entire in-house maintenance team. Thus, while you are enhancing operational efficiency, you are also saving costs - something great for budding businesses. Businesses taking the integrated SaaS business model route are increasing in number with each passing year.
Are you still using dated business models? It's high time to take the leap. Embrace SaaS integration and watch your business transform.
At Cloudify, we understand the intricacies of SaaS integration. We ensure your journey towards integrating various SaaS products is as easy as the solution itself. We take the complexity out of the equation and deliver seamless, robust SaaS integration solutions tailored to your business needs.
By partnering with Cloudify, you are not just embracing the SaaS revolution; you are also unlocking a world of benefits:
Save time and resources
Minimise errors, delays, and inaccuracies
Enhance security, compliance, and governance
Boost employee engagement and productivity
Improve ROI through efficient resource usage
Centralize data management for easy access
Require fewer maintenance resources
Cloudify is your trusted partner in this exciting SaaS journey. So why wait?
Ready to revolutionise your business with SaaS integration? Click the button below and let's embark on this transformational journey with Cloudify.
Start Your SaaS Integration Journey with Cloudify
When you click that button, you're not just choosing to streamline and modernize your business. You're choosing a partner committed to your success. We understand that every business is unique, and so are its needs. That's why we offer a range of protocols, connectors, options, and data formats for the seamless integration of SaaS products into your operations.
Say goodbye to the stress of manual data management and constant system monitoring. With Cloudify, you gain the freedom to focus on what truly matters - growing your business. Our team will handle all the nitty-gritty of integration, ensuring it's seamless, easy, and most importantly, beneficial for you and your business. Moreover, we don't just stop at integration. We go a step further to ensure that the integrated grid of SaaS applications you use is holistically maintained at a cost-effective price, reducing the need for in-house IT maintenance.
Let's revolutionise your business. Let's embrace the future with SaaS integration. And let's do it together, with Cloudify. So, are you ready to embark on this transformational journey?
Yes, I'm Ready. Book a free consultation
To take the next step in your SaaS integration journey, click on the button. Our team at Cloudify is excited to connect with you and start working towards transforming your business. Let's embrace the SaaS revolution together!"
Content Developer
Meet Pernille, a skilled content writer with a specialization in the field of business automation and the IT industry.
Expertise
Process Automation
Artificial Intelligence