What You Should Choose: Pipedrive or Freshsales?
Pipedrive and Freshsales are (CRM) software which comes packed with features like contact management, pipeline tools with many customisations available.
If we compare Freshsales with Pipedrive, both are unique in their way, and both come uniquely priced with different plans based on the no. of users and features. Let's take a more in-depth look at both CRMs.
Freshsales seems to be the best option for small businesses looking out for an affordable cloud-based CRM, which can be customised as per their business and processes, helping them manage both inbound and outbound sales teams.
It helps all businesses spread across different industry verticals for managing their potential and existing customers.
Some of the key features include sales lead tracking, event tracking, sales management and more. You can send personalized emails in bulk, monitor and track all the activities related to these emails. The email inbox will automatically prioritize the emails, from leads and contacts which are awaiting for a response.
Users can also send personalized bulk emails and then monitor activities. The inbox automatically prioritises emails from contacts and leads that are waiting for a response.
Freshsales tracks the web pages that prospects are interacting with and then segments contacts based on their behaviour. A lead scoring feature ranks lead based on that data and will prioritize those with a higher score over those that require nurturing. The 360 customer view offers full details about customers and prospects, including conversations, touchpoints, appointments, and tasks.
Freshsales integration with Freshdesk, Segment event tracking and Google Calendar. Services are offered on a monthly subscription basis that includes support via phone and through other online resources.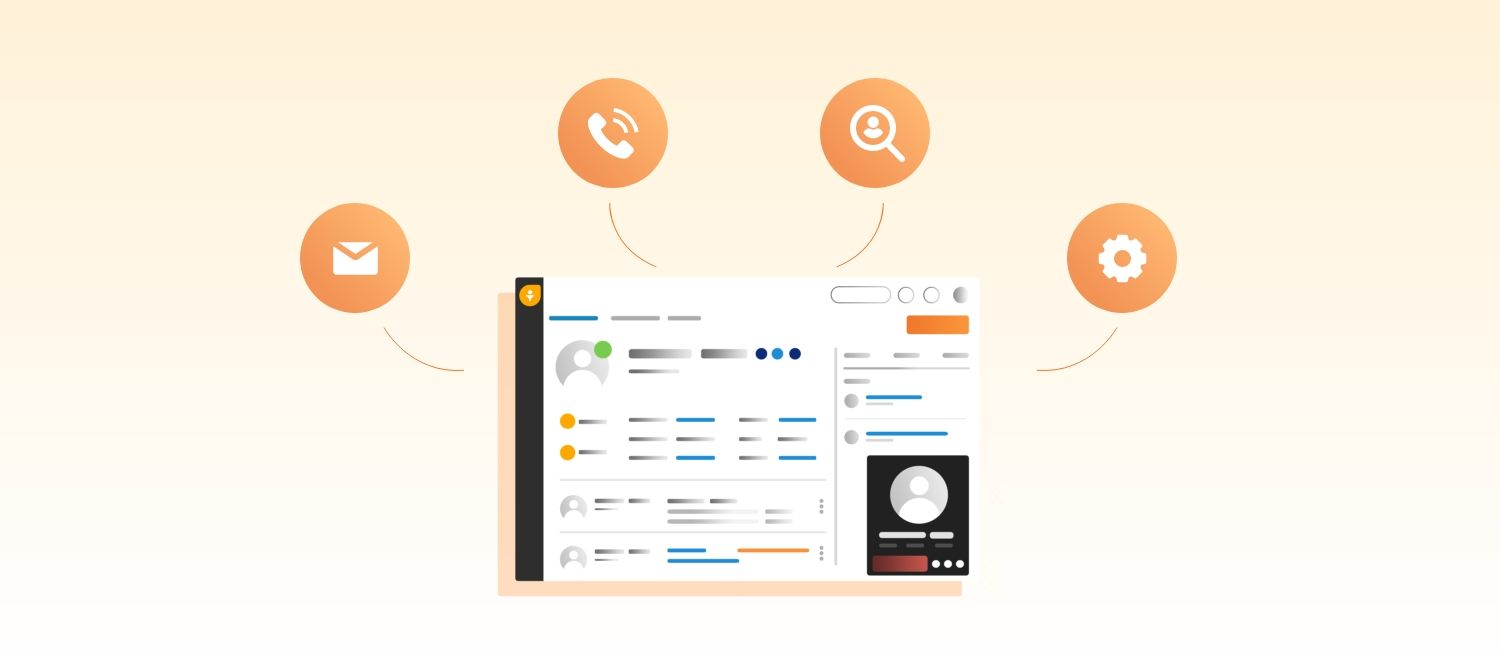 User Experience
Here we have curated a list of all the features that make Freshsales user friendly.
Single pane view into the behaviour of prospects, which eventually helps salespersons in getting a 360-degree view of the prospect's behaviour, say Goodbye to multiple tools.
Provides complete visibility of the sales pipeline - this helps salespersons to find out how effective their selling has been and in keeping track of their deals.
Insights, which help in optimizing sales processes - this also allows salespeople in identifying bottlenecks and know performance as per key metrics.
Bridging the gap between support and sales - any business's current customers are their future loyal customers, you need to have regular interactions with them, Freshsales keeps your support and sales teams in sync, integrate Freshworks with Freshsales.
Freshsales Customer Service
There's no doubt that Freshsales offers seamless and exceptional customer support; they are available on chat, email and phone.
Additionally, they also provide an extensive video library that covers everything from setting up the software and performing the expert configuration.
Pipedrive was founded in 2010 by two partners, who were fed up with the CRM's, which were built keeping only managers and organizations in mind and not the end-users.
By teaming up with three developers, they formed a team and launched it in 2016, meanwhile working on updates, plans and functionalities.
[Pipedrive was very much focused on small enterprises](What is Pipedrive?) but later on started adding more complex features, which were a prerequisite for large enterprises.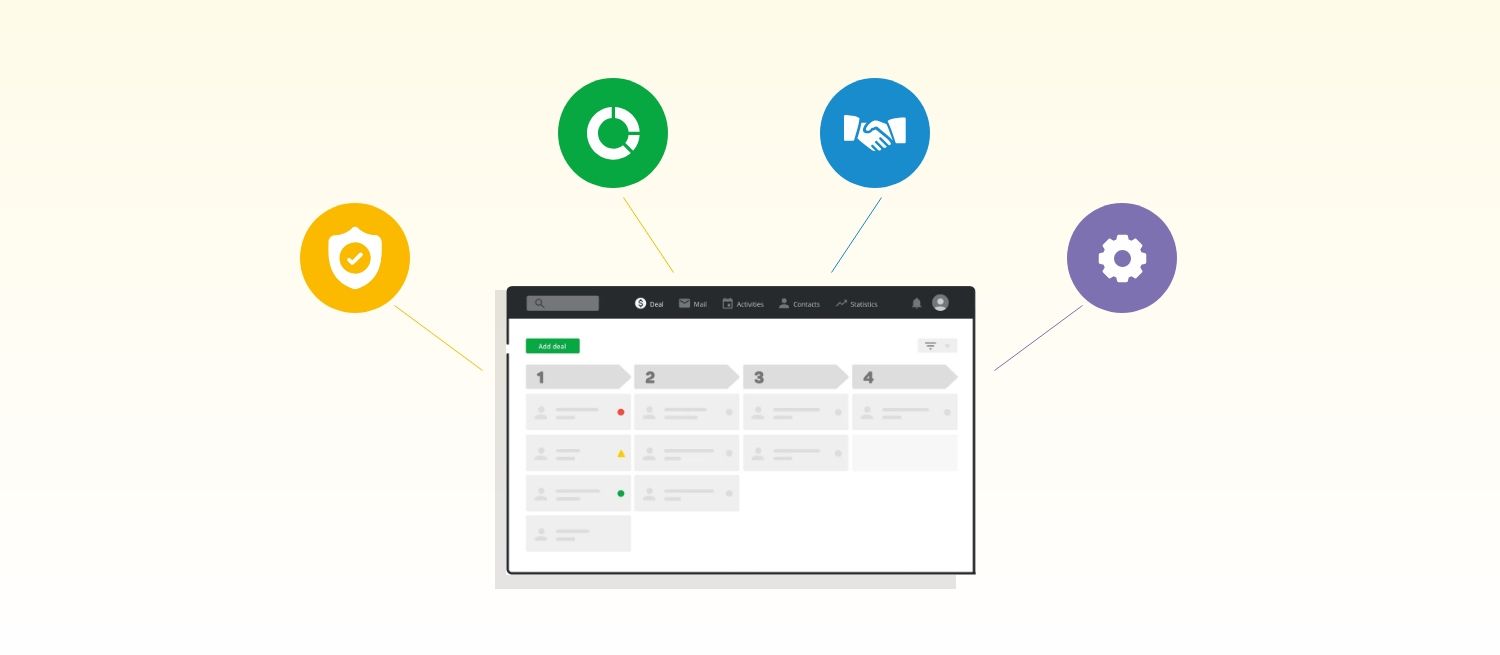 When Should Businesses Use Pipedrive CRM?
Pipedrive CRM is famous for its multiple visual pipeline view, product catalogues, which makes it suitable for businesses that sell both services and products, and the ones that want to create proposals based on catalogues from within the CRM.
Pipedrive comes packed with built-in scheduling tools, which makes it better for sales teams who have to schedule personal meetings regularly with their clients for closing a deal.
Reduces admin work - Manual data entry belongs to the 19th century, if you're still doing it, then you're surely lagging. With the right tool like Pipedrive, you will handle data less and sell more.
Easy to use and set-up - Using a CRM software give your sales team a panic attack? Forget that when using Pipedrive as the visual sales pipeline makes it user friendly. So, instead of being a sales management software or weekly reporting platform, it becomes a one-stop solution for all your sales tracking needs.
Unifies all tools - Imagine all the tools and integrations that are involved in your sales processes all at one place. Having a streamlined and single view of sales processes gives you clarity, gets you and your team on the same page.
Fully customisable - Flexible sales management systems, which are easy to adjust, are the best way for moulding the software as per your business needs. The less complicated the CRM is, the easier it becomes to personalise it.
Available on the go - Never miss out on a significant lead, no matter where you are with the Pipedrive's mobile app. It makes sales management easy and simple so that you can communicate with prospects on the go.
Designed for salespeople by salespeople - A salesperson job does not end at generating leads, so they need software that is designed to meet their needs. Regular CRM's might also work, but the real magic only happens when you're using the right tools that are built for driving and managing your leads.
Related articles for you:
User Experience
Pipedrive's most important feature has always been the sales pipeline; the visual appeal makes it less complicated and more user friendly. It displays deals as per different stages, showcases the team's progress and which deals should be prioritized, which makes it easy to have an overview.
The activity-based CRM helps salespeople in selecting the right activities as per deals, and you can also add custom fields as per business requirements.
Comes in 13 languages and all major currencies and few minor ones along with a robust API for enabling seamless integrations with other systems you use for your business making it easier to export and import data to other platforms.
Pipedrive users - including us, adore the visual pipeline and intuitive interface, which requires a little onboarding. It also gets thumbs up for its seamless integrations with this party software like marketing automation and email marketing. Another most useful feature includes workflow automation, which are pre-defined but can be customised by using a third-party automation tool like zapier.
Pipedrive Customer Service
Even though Pipedrive does not offer phone support, that does not stop its support team from providing their customers with the best customer service experience.
The support team is available via chat and email, while also offering expert support knowledge on their support pages, explanatory videos on youtube and webinars.
They also have their own Pipedrive community where businesses come together to share their experience and discuss problems.
We tried to write this comparison without being biased towards any, and we surely wouldn't want your decision for the CRM to be specially based on this article.
We expect you to make your decision on the basis of features, prices and integrations that you're for that eventually deem fit to your business needs.
We suggest you to Book a consultation with a CRM expert before making your final decision.
Related use cases: Vendemus | TED IVS
According to us, both Pipedrive and Freshsales are excellent CRM's for small to medium-sized businesses that will help sales teams in streamlining their projects and convert leads into customers.
When it comes to comparing both, Freshsales provides you with a free plan, followed by upgraded plans that you can choose on the basis of your business needs. The plans are cheaper than Pipedrive.
Whereas generally, Pipedrive offers a free trial of 14 but via Cloudify, the elite partner, you can have access to a 45 day extended trial right after applying the pipedrive promo code.
Apart from this, Pipedrive comes with 14 plans, and you can pick the one based on your needs. But again we would like to conclude that each business is unique and so are their needs, so before you take any decision - TALK TO THE EXPERTS!
Content Developer
Meet Pernille, a skilled content writer with a specialization in the field of business automation and the IT industry.
Expertise
Process Automation
Artificial Intelligence