As a business, customers should be at the centre of everything. Customer Relationship Management has evolved throughout the years for providing new and better opportunities for managing contacts and delivering better customer experience.
Lack of Vision
One of the terrible mistakes companies make with their CRM project is not set up specific targets & goals. A CRM software is bound to be adaptable and flexible so that it can be used in industries with broad niche and cases. Without a clear vision of the needs that the CRM will be used to accomplish, it could be easy to lose focus during the planning and CRM implementation process. The more specific your plans are, the more likely it is to be a success.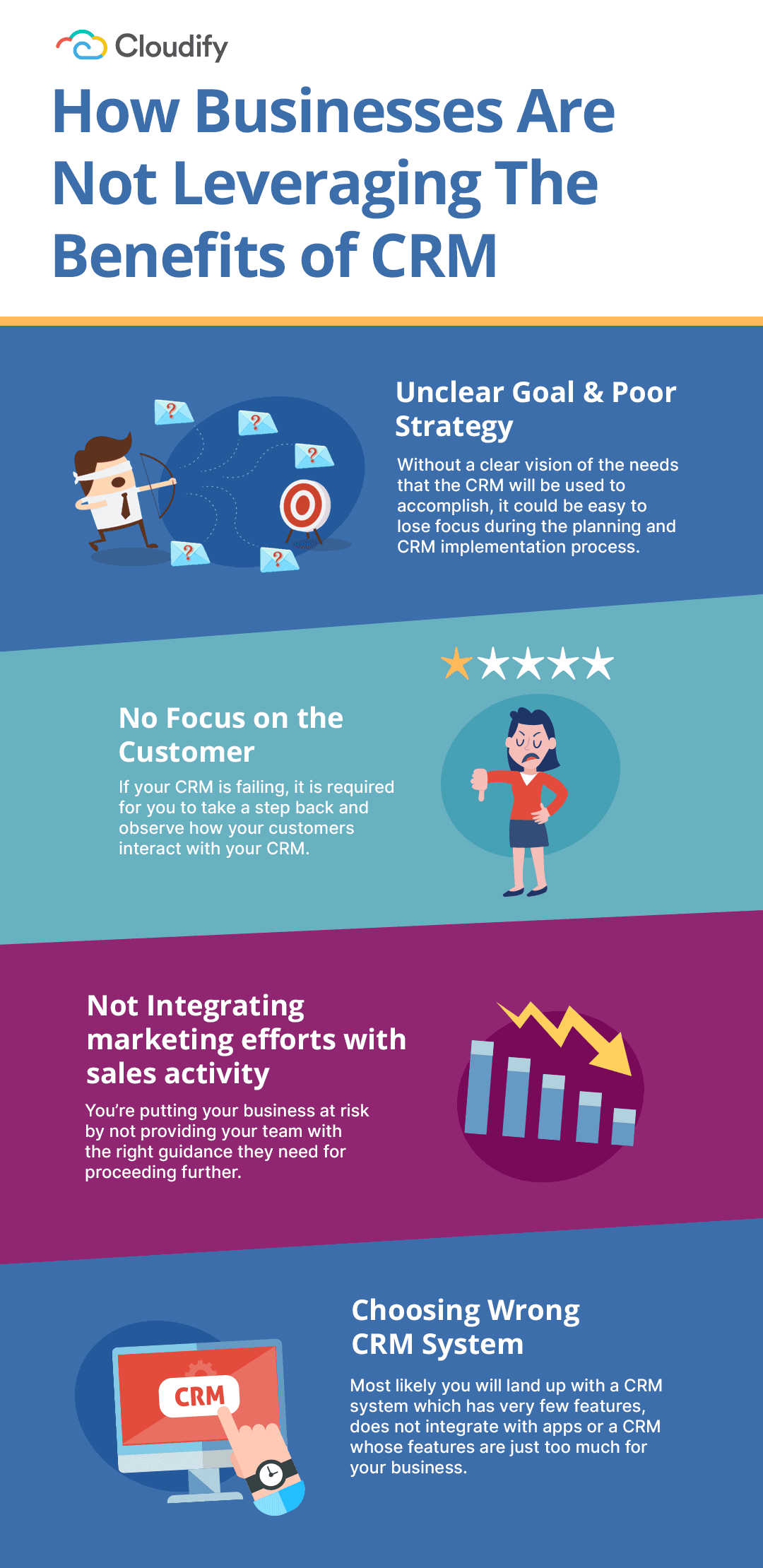 It's effortless for organizations to get carried away with the technology behind their CRM projects, but it's essential to realize that these software's sole purpose should always be enhancing customer relationships.
Technology alone can not improve the relationships with your customers, so the right workflows that are operated with well-trained staff can probably generate powerful results.
Unfocused Planning
Implementing CRM is obviously not an easy job. It involves multiple processes, refining generic workflows into specific ones, user testing, data migration, employee training and much more.
Also, your plan should be crystal clear so that there is no confusion and you know in which direction you're headed. Ensure that all elements of an implementation are taken into consideration.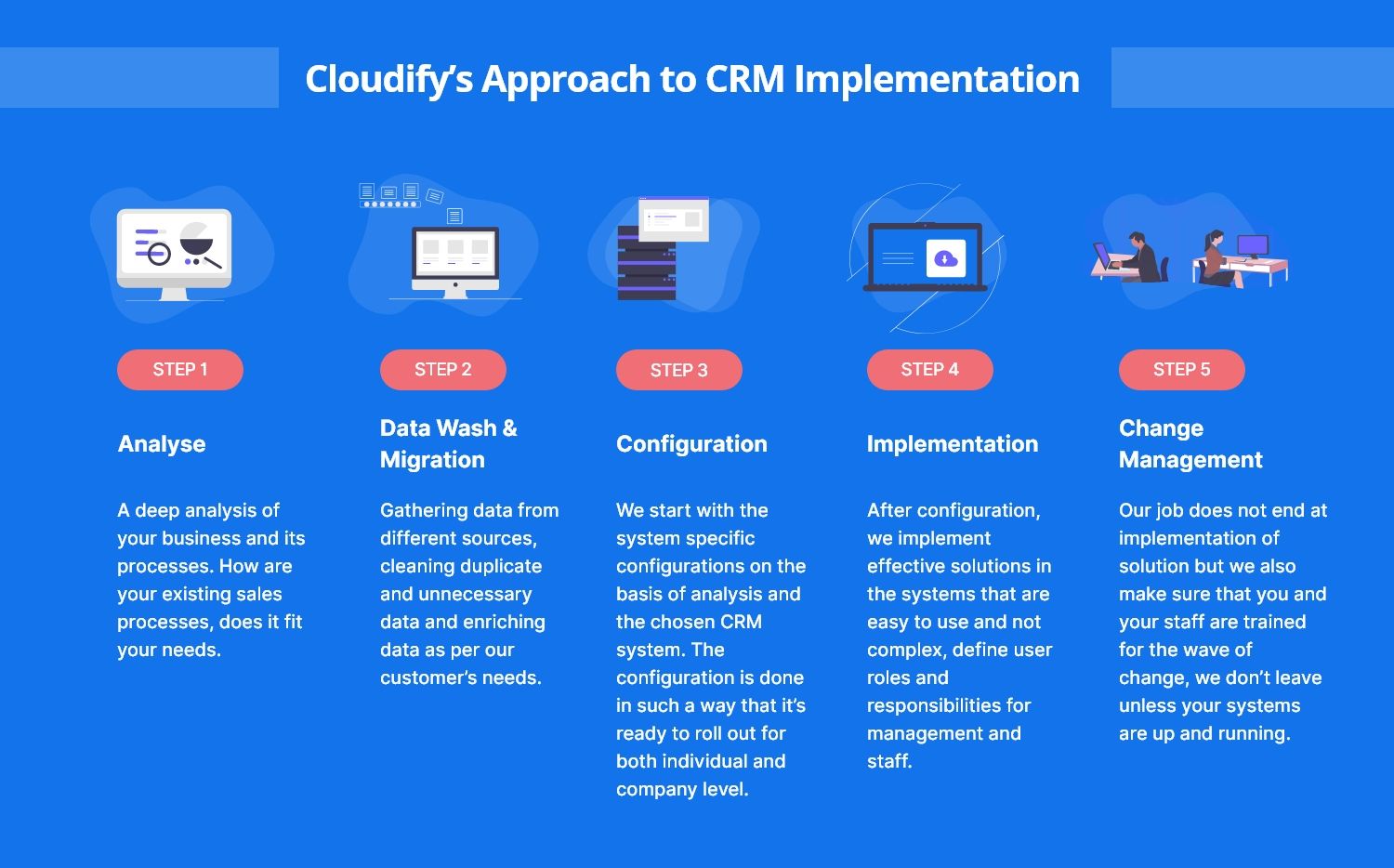 Analyse
A deep analysis of your business and its processes. How are your existing sales processes, does it fit your needs. Where the data and leads come from and which systems need to interact with the CRM, on the basis of this – we suggest how the sales process ideally should be and how the CRM should be configured accordingly.
Data Wash & Migration
Gathering data from different sources, cleaning duplicate and unnecessary data and enriching data as per our customer's needs.
Configuration
We start with the system specific configurations on the basis of analysis and the chosen CRM system. The configuration is done in such a way that it's ready to roll out for both individual and company level.
Implementation
After configuration, we implement effective solutions in the systems that are easy to use and not complex, define user roles and responsibilities for management and staff.
Change Management
Our job does not end at [implementation of solution]("Pillar- SaaS Implementation: Challenges, pitfalls and best practices ") but we also make sure that you and your staff are trained for the wave of change, we don't leave unless your systems are up and running.
Sales strategy is actually a tactical blueprint for how the business can increase revenue, sales and profits.
Your sales strategy decides who you will be selling to, what you exactly need to communicate to your customers that entices them to make a purchase and what you're expecting.
Developing a sales strategy will help you understand who are your ideal customers and how you can increase the sales with your target audience.
Pipedrive can be implemented without a Sales Strategy, Goals or Forecasting but in that case you will not be using CRM to its full potential rather just half of it, which will lead to unsuccessful CRM implementation in the long run.
It is because without a Sales Strategy, goals etc you're putting your business at risk by not providing your team with the right guidance they need for proceeding further.
How you're supposed to know if the well-designed CRM that you have implemented is failing? How would you detect it? Without the right metrics to measure success, there's no way to tell what's working and what's not working.
Your CRM project needs precise, clear and measurable objectives, which can be analyzed, tracked, analyzed and deeply evaluated. This will allow you to update and make timely changes in the CRM when it is needed.
The fundamental role of a CRM is to assemble customer's information efficiently in a centralized location and make it accessible to everyone when it is needed.
There are multiple ways for organizing the system and usually the data is organized in a way that makes it easier for the company rather than the customer.
For example, in cases like customer support - the company-centric approach won't serve you any good. If your CRM is failing, it is required for you to take a step back and observe how your customers interact with your CRM.
A CRM system should flow with your business and its objectives. A great CRM is obviously not the result of a single, perfectly executed implementation rather ongoing changes, refinements, revisions and expansions that lead to success.
CRM would never be perfect because business is dynamic, it's always changing. If your CRM is failing, the chances are that it needs an update.
At the same time, the right CRM implementation partner will not abandon the project right after its up and running. Rather they will check in regularly with you if things are going fine and any update is required.
Relared use cases: Glycospot | CHSContainer | HelionB2B
Choosing the right partner is very important for your success, but so is selecting the right CRM software that deems fit your business needs.
It can be very tempting to choose the cheapest or the most expensive software with maximum features, but either you will land up with a CRM system which has very few features, does not integrate with apps or a CRM whose features are just too much for your business.
It's better to seek consultation from experts who can guide you on which CRM to choose for your business. An experienced CRM consultant will always build a customized solution for you.
Looking for a FREE CRM Consultation? Book A Meeting with Our CRM Experts
Customer relationships are the key to your organization's growth, so you need to manage them as effectively and efficiently as you can. Here's how CRM systems can help you in improving your business performance and growing your company bigger.
Finding the Right Customers
Without a CRM system, 79% of all the marketing leads would never get converted into sales.
Meanwhile, you've spent resources and time in attracting and generating new leads but after that? Now what? Are those leads getting passed to your sales team and if so, do your representatives know about the opportunities that are the hottest?
Time is very important when you're small but growing faster day by day. Did you know? You can make the most of your marketing tools, whether email or social with marketing automation and connecting them to a CRM system.
Both marketing and sales will have a complete overview of the prospects and leads so that they can target engaging communications and turn prospects into customers.
Building More Sustainable Relationships
According to research by Salesforce, forty-six percent of sales leaders say that a deeper customer relationship is the key objective for sustaining success.
You can develop an understanding of a customer - starting right from their history with your organization, and you will surely build a very lasting relationship, which is founded on mutual success and trust. The right CRM can help a company:
Explore their challenges: It will help you in finding out what matters the most to your customers, their challenges, preferences and goals, at the end of each exchange make sure to follow up. Record them in your CRM, so next time you can pick up from where you left.
Engage: After you have understood the customer's challenges and goals - you can recommend them relevant products and promotions or other content, which is relevant to their business interests at the right time.
With CRM, you will also know - what they have shown interest in previously or what they have purchased and how they have been using the. You will be able to provide relevant information and content based on their needs.
Reduce Sales Costs
The probability of selling to any new prospect is between 5 to 20 percent and the probability to sell to an existing customer is between 60 to 70%.
According to multiple marketing metrics - new customers are the key ingredient of growth but getting them is not easy.
But you can surely gain some more revenue by pitching your new products or services to your existing customers.
Gain visibility to cross-sell and upsell or renewal opportunities, and you will see the chances of increasing repeatable sales with the trust that you have already earned.
Offer Better Customer Service Experience
Customers would pay more to a company where they get better customer experience.
This states the fact that you could have the best product in the world, but it should be as good as the service. Don't flood your customers with multiple marketing promotions that will scare them away. Drop generic marketing emails when you have acquired a prospect and converted him into a customer.
A CRM will centralise the data and interactions, while giving access to your team to a customer's complete history so that every team can provide personalized solutions with the right resources.
Did you know that Pipedrive is the first sales CRM which is focused on Sales and activity based sales. It is designed by salespeople for salespeople.
Pipedrive is the current leader of the CRM category and the winner of Expert's Choice Award for 2019.
Their team did all extensive tests on the CRM's which are available in the market and found Pipedrive to be the best performing CRM and sales pipeline management system. Some amazing features of Pipedrive that makes it stand out from the crowd:
Easy Sales Pipeline Management
Pipedrive comes with an interface, which helps in visualizing the sales process while making it significantly easy to manage and use. As with the tools, there's always a need to learn, but with pipedrive, it would definitely be easy.
Integrations to Boost Productivity
Pipedrive can be integrated with tonnes of applications including Zapier, Mailchimp and Trello. Marketing is one of the essential parts of generating leads, and you can automate your processes and tasks, including emails, social media, lead generation and more so that your team can focus on better tasks.
Lead Management Feature
With pipedrive, you get the ability to add web forms on websites, whether they are yours or someone else's. It will surely help you in generating more leads.
Activity-Based Selling Definition
It is one of its kind selling strategies, that shifts the focus away from just closing a deal to something bigger and better. It put the focus on the complete process or all the actions that lead to completing a sale.
Open API
Every business needs customization as per its requirements; Pipedrive gives you the ability to do that. Your developers can access its open API and make the required customisations.
Well, choosing the right CRM could be a hectic task but not with an experienced CRM consultation.
If you need any assistance you can book a meeting with us, we are official partners of Pipedrive and have helped many organisations with their CRM's. We highly recommend Pipedrive to everyone because it is a tool, which is designed by salespeople for salespeople, keeping every need in mind.
Content Developer
Meet Pernille, a skilled content writer with a specialization in the field of business automation and the IT industry.
Expertise
Process Automation
Artificial Intelligence