When executives embark on building a CRM system, they often feel enthusiastic and open to embracing change. However, if they fail to take into account the entire scope of their project, their CRM may not yield the expected outcomes.
If you find yourself in this situation, don't worry - you're not alone. Research indicates that an astonishing 70% of CRMs are not implemented correctly. This is not surprising given that HubSpot discovered that 22% of salespeople still do not know what a CRM is, and 40% continue to use informal methods such as spreadsheets and email programs to manage customer information.
In this article, we'll discuss the 5 key elements of a successful HubSpot implementation strategy.
The first step in any successful implementation strategy is to define your goals and key performance indicators (KPIs). This will help you determine what you want to achieve with HubSpot and how you will measure success. Some common goals for implementing HubSpot include:
Increasing website traffic
Generating more leads
Improving lead quality
Shortening the sales cycle
Increasing customer retention and loyalty
Once you have defined your goals, you can start setting KPIs to measure your progress. Some common KPIs for HubSpot implementation include:
Website traffic
Lead generation
Lead-to-customer conversion rate
Customer retention rate
Customer satisfaction
Before you can implement HubSpot, you need to assess your current processes and tools. The next step is to assess your current processes and workflows and identify the areas where HubSpot can add value. HubSpot is designed to automate and streamline many tasks, from lead capture and nurturing to deal tracking and customer support. However, to make the most of HubSpot, you need to align it with your existing processes and workflows. For example, you need to ensure that your lead capture forms are integrated with your website and CRM, that your lead nurturing workflows are personalized and effective, and that your sales and service teams are using HubSpot effectively. This will help you identify any gaps or areas that need improvement. Some questions to ask include:
What tools are we currently using for marketing, sales, and customer service?
How are we generating leads?
How are we tracking leads and customers?
What are our current marketing and sales processes?
How are we currently measuring success?
Once you have identified areas for improvement, you can start to map out how HubSpot can help fill those gaps and improve your processes.
How would you rate the quality of your customer base?
Can you provide information on the number of customers you have?
What are the rates at which customers stop using your products or services?
What is the percentage of total spending that each customer contributes to your business?
Have you seen an increase in revenue from your existing customers?
What is the level of satisfaction among your customers?
Are there any other metrics that indicate the overall health of your customer relationships, such as service levels or frequency of complaints?
Your analysis can identify any issues that your potential customers may be experiencing, such as difficulty accessing basic information on your website or incorrect information provided by your CRM. This assessment will help you learn from your current situation and determine whether your existing strategy is effective for your business.
It's crucial to be transparent in your assessment of the current state of affairs. Whether communicating with your internal team or an external implementation partner, providing accurate results from your audit can help ensure future success.
After analyzing your current results, it's essential to assess the buyer's current experience. This is an excellent opportunity to conduct market and customer research or utilize previous customer satisfaction surveys to identify pain points and issues that can be resolved through the CRM program.
Take the time to review the customer's current buying process:
Are there any confusing instructions or areas where the next step is unclear?
Understand how they perceive the journey and pinpoint any potential "leakage" in the process (e.g., customers dropping out of the buying process).
Are there any points where they are forced to take routes that complicate their buying journey, or are they given the opportunity to use the right channel?
Consider the different customer types you have and their respective processes. Develop a range of unique buyer personas and their corresponding journeys to achieve their desired outcome from your company.
Although this list of questions is not exhaustive, it will help you identify the challenges you're facing and uncover the "low-hanging fruit."
Defining a vision
As you work on the present, your attention should gradually shift towards the future. To determine where you want your company to be, you must reorganize yourself, identify necessary process changes, and decide how you will utilise HubSpot or other technologies to achieve your goals. It's during this stage that you are likely to experience an "Ah-Ha" moment, realizing how HubSpot CRM can truly transform your business.
Customers of different types purchase products in different ways. Therefore, it's important to understand the types of customers you serve, their preferences, and their expected interactions with your business. For example, selling a t-shirt may involve a simple, low-value sales process, while selling a bespoke technology solution requires a highly customised approach, both in terms of the sales process and post-sales service.
To effectively implement your CRM, you should segment your customers, categorise your products, and define the buying scenarios to consider. This will help you organize and prioritize your CRM implementation. Mapping the importance of your CRM tasks, customer value, and service complexity using a grid can help you efficiently structure your tasks and teams.
At this stage, it's important to identify your priorities and determine the approach you will take to navigate the upcoming changes.
Waterfall versus Agile Development Approach?
Before embarking on software implementation or organizational changes, it's essential to decide on a development methodology that will govern how tasks are organized and executed in your CRM project. In simple terms, this involves choosing between two primary development approaches: waterfall and agile.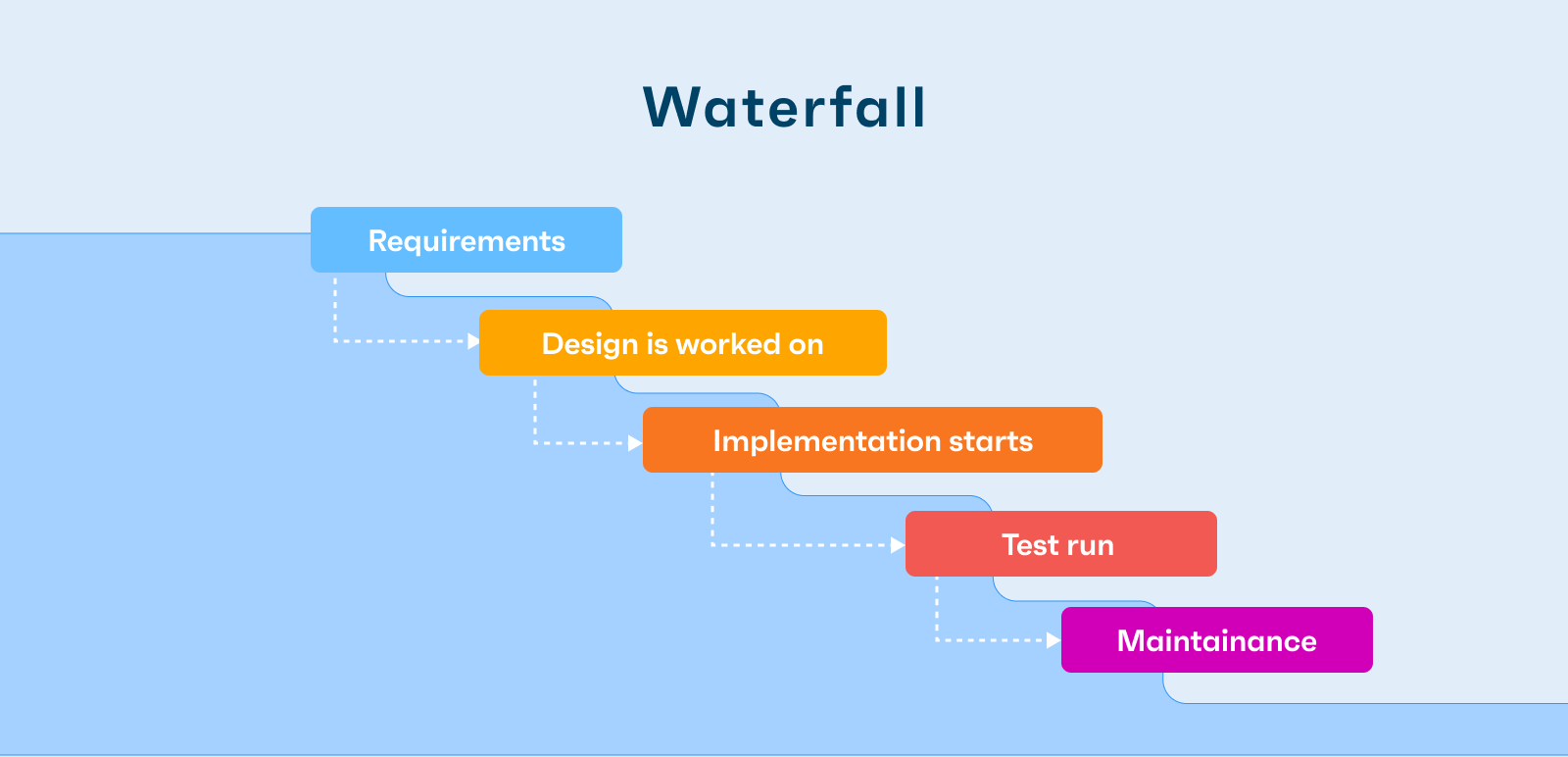 Customer:
Even if you are confident that your buyer persona will prefer the new way of working, it is crucial to consider how your real-life customers will react to the changes. While these alterations are made to benefit them, sudden changes may create a jarring experience for your existing clients. For instance, a new website that is easier to navigate may not cause any issues, but changes in the process for requesting a service may affect them.
To introduce these changes to your existing customers, treat them as stakeholders in the communication plan. Use blog posts, videos, or emails to inform them about the changes in the customer journey and when they will be implemented.
Read about HubSpot implementation case study: How we helped Glycospot create professional invoices automatically
Process review and improvement:
In the previous stage, we learned that having a clear process is crucial for a successful CRM implementation. Your staff needs to be informed about the processes they are expected to follow as the new system introduces new ways of working.
Apart from system training, it is also important to consider implementing new policies and guidelines that align with your new technology. These should be documented, and your operating procedures should reflect the changes. Even small companies should have written policies in place to protect and guide their workers and clients. It is crucial to clarify what is mandatory and what is not.
To ensure that your process works effectively, you need to evaluate every area of your business. This requires asking questions such as:
What is the lead management process for creating a new lead?
What is the current sales process, and does it differ per deal or transaction?
Is the current process clearly defined by role?
What decision gates are there?
What approval processes need to be put in place?
How do you ensure that people sell within the rules?
What processes do you have for pricing/discounting?
What is the production handover and customer onboarding process?
Are your customer management processes effective?
How do you manage customer feedback handling, and is the current complaint-handling process effective?
What is the current account planning or renewal process?
Are your management and reporting processes effective for your team?
To evaluate every aspect of your process, go beyond this list and discover areas that can be improved for both your customers and your team. Create a seamless process that benefits both parties.
Technology:
It is important to recognise that technology plays a significant role in driving process change, just as process drives technology. To ensure success, it is crucial to configure HubSpot in a way that works for your business. This may involve setting up user profiles, teams, and roles, customizing the HubSpot database with custom properties, and creating user views.
Additionally, building automation tools with features like sequences and workflows can help customer-facing teams work more efficiently. Custom coding may also be necessary, and it is essential to ensure that the right content is available for users. Setting up targets and SLAs and tailoring reports and dashboards can help prioritize the data that matters most.
By tracking data, HubSpot provides a more accurate view of what is working and what is not, allowing businesses to make changes to their websites in the future. Before loading any new data into the system, it is important to cleanse and enrich the data to focus on clients and prospects that matter. Mapping potential clients and their journeys in the HubSpot database can also help.
During the implementation phase, businesses should develop, test, and deploy interfaces, ensuring that data flows correctly between various systems. By identifying where HubSpot needs to integrate with other systems to support the customer journey and implementing the right integration strategy, businesses can ensure a successful implementation.
To ensure readiness for the next stage of CRM implementation, it is necessary to complete the following checklist:
Test the new process with current clients to ensure functionality and identify any issues.
Train staff on the new system to ensure effective use.
Update policies based on the new CRM and communicate changes to both clients and employees.
Configure HubSpot to meet business requirements.
Ensure that data flows correctly through the new system.
Confirm that the new CRM is live at the end of this stage.
It is important to complete these tasks in order to ensure a smooth transition and successful implementation of the new CRM.
It is important to note that achieving successful results from your HubSpot CRM implementation may take a significant amount of time. The development of a comprehensive CRM system that effectively meets the needs of your prospects and customers can take several months or even years, as you work through the various stages of implementation.
Outlined below are four critical success factors that are essential to achieving success in this process:
Business direction - Establishing a clear strategy that outlines the processes necessary to deliver business benefits.
Digitisation - Ensuring that technology and data are properly implemented to support the processes.
User adoption - Ensuring that users effectively and properly utilize the new system.
Process engineering - Condition the organisation to properly adopt the new processes
By focusing on these critical success factors, you can improve your chances of a successful HubSpot CRM implementation that delivers long-lasting benefits for your business.


Social media manager
Meet Natalie , an experienced social media manager specializing in business automation.
Expertise
Business automation
AI