If you haven't been living underground for the past few years, you have probably heard of artificial intelligence (AI). But how can we utilise AI in CRM and eCommerce systems and enhance their capabilities?
In this piece, we will outline innovative and practical ways that retail businesses are taking advantage of AI in the realm of online shopping. 
AI has taken the world by storm, and its impact is being felt across all industries, including customer relationship management (CRM) and eCommerce. With the increasing competition in the market, businesses are continuously looking for ways to enhance their customer experience and drive sales. AI has become an essential tool in this quest. 
AI is gradually becoming a part of our everyday existence, from the increasing number of self-service cash machines to the sophisticated security checks utilised in airports; it seems that artificial intelligence is always present.
Industry experts predict that AI will soon gain momentum, with industry giants such as Google and Microsoft already investing heavily in new AI ventures.
In this article, we will explore the role of AI in enhancing CRM and eCommerce.
The eCommerce AI market is expected to reach $45.72 billion by 2032. The market is projected to grow at a CAGR of 18.45% from 2023-2032.
The retail market is expected to reach USD 49.09 billion. The market is expected to grow at a CAGR of 38.05% during 2022-28.
Around 35% of companies are already using AI in their businesses. 42% of companies explored AI in 2022.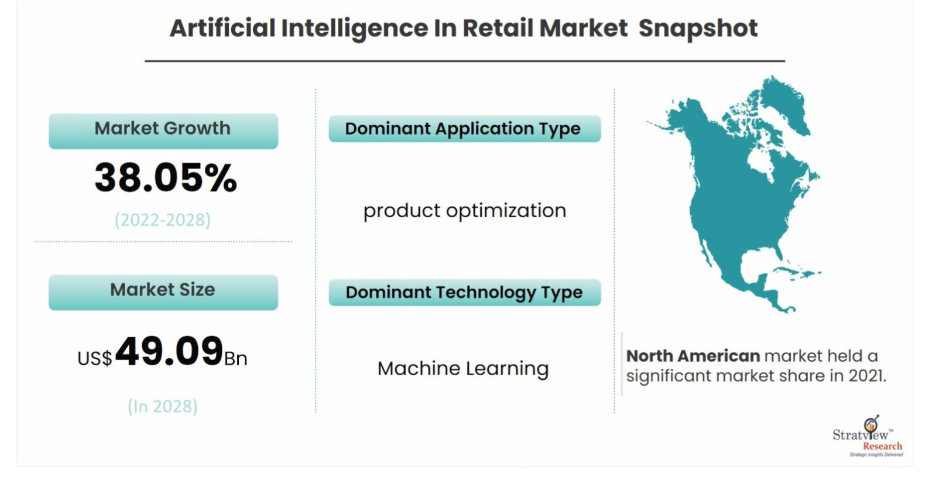 The implementation of artificial intelligence in e-commerce and CRM systems is empowering companies to predict, perceive, and automate. This technology not only enhances the user experience but also boosts brand reputation while assisting startups, manufacturers, and retailers to set new industry standards. The implications of AI are enormous, transforming how retailers sell their products and services and how consumers purchase them. AI can address real-world challenges that e-commerce businesses encounter and can also integrate enjoyable features into applications, including automated product recommendations, personalized customer support, loyalty discounts, and more.
AI in Customer Relationship Management

Customer relationship management is the backbone of any successful business. It involves managing the interactions and relationships between a business and its customers. With the rise of AI, businesses are now able to automate and streamline their CRM processes. AI-powered chatbots can be used to handle customer queries, complaints, and support. Chatbots can provide personalised recommendations and offer solutions to customers in real-time. This not only saves time but also provides a seamless customer experience.
 AI can also be used to analyse customer data and behaviour. By analysing customer data, businesses can gain insights into customer behaviour, preferences, and purchasing patterns. This information can be used to create personalised marketing campaigns and offers that cater to the individual needs of customers. Personalisation is a key factor in customer satisfaction, and AI can help the eCommerce businesses achieve this.
Virtual Assistants and Voice Commerce

Virtual assistants and voice commerce have become integral components of e-commerce, leveraging machine learning and language processing technologies to provide seamless support to customers. Widely popularised by the likes of Apple's Siri, Amazon's Alexa, and Google Assistant, virtual assistants offer 24/7 availability and handle simple customer inquiries with ease. They can assist with product research, inventory management and offer quick and easy access to information for customers.
Voice commerce, which allows users to make purchases and conduct searches using their voice, has seen significant growth in recent years. Its convenience and speed make it a preferred choice among customers who want to save time and avoid typing errors.
Personalised Product Recommendations

AI algorithms can analyse the purchase and browsing history of customers to provide personalized product recommendations, enhancing the overall customer experience. This is the first and most important thing that an AI algorithm can do, as it helps users see things they are interested in.
Chatbots
 Chatbots are another AI-powered tool that can offer real-time assistance to customers, addressing their queries and concerns in a personalized manner. They can suggest products and help customers find what they are looking for quickly and efficiently.
Inventory Management
 AI also plays a vital role in inventory management, detecting product requirements and optimising inventory to meet demand. This ensures customers can get the products they need on time, while eCommerce businesses can manage their inventory more effectively.
Searchandising (Smart Search)
Searchandising is an innovative approach that combines traditional search methods with advanced features such as faceted search, recommended products, autocomplete, and recent searches. Leveraging customer behaviour data from the CRM system, eCommerce platforms can create personalised and profitable search experiences, improving the overall shopping experience for customers.
eCommerce Automation

 AI-powered automation can save time, energy, and operating capital for eCommerce businesses, allowing them to focus on more challenging tasks. Automation can execute repetitive tasks such as presenting new items on different channels, coordinating sales, implementing discounts for loyal customers, and recognising high-risk transactions.
Retargeting or remarketing is a strategy that reminds users who have engaged with an eCommerce platform of the existence of the brand and its products. AI can help identify behavioural patterns and use this information to lure users back to the store. One effective retargeting strategy is the use of personalised push notifications that can be based on the behavioural data collected, providing cost-effective and targeted communication.
Incorporating AI into e-commerce platforms has tremendous potential for enhancing the customer experience, improving inventory management, and automating repetitive tasks, ultimately leading to increased profitability and brand loyalty.
Wrapping up!
Cloudify is a leading provider of e-commerce automation solutions dedicated to helping companies achieve their digital transformation goals. With a focus on digital analysis, implementation of cloud-based systems, and automation and system integration, Cloudify is a trusted partner that optimises processes, streamlines operations and boosts marketing and sales efforts.
Overall, Cloudify is the ideal partner for companies looking to enhance their e-commerce automation capabilities. By providing end-to-end digital solutions that are tailored to each client's needs, Cloudify helps businesses achieve their digital transformation goals while optimising their processes and boosting their marketing and sales efforts. With Cloudify as a trusted partner, companies can confidently navigate the complex terrain of digital transformation and achieve their goals.
Related content for you:
Try our Pipedrive and Amazon seller central integration 
Didn't find your integrations here! Drop us a message with your requirements: Contact us
Related use cases: veo 

Content Developer
Meet Pernille, a skilled content writer with a specialization in the field of business automation and the IT industry.
Expertise
Process Automation
Artificial Intelligence