The accounting system is a vital tool for managing and organising all financial information related to a business. This includes tracking assets, liabilities, and other financial data. Without a clear understanding of one's finances, it can be difficult to make strategic decisions and understand the financial health of the business. The accounting system plays an integral role in helping to demystify business finances and make informed decisions for the growth and success of the company. It is essential for a business to have a reliable and efficient accounting system in place to ensure that financial information is accurate and up-to-date, allowing for sound decision-making and a clear understanding of the financial status of the business.
But how will you know that you are using the right accounting system that fits your business needs? Here, in this article, we will guide you through the complete process of implementing an accounting system, how it can benefit your business and its functions.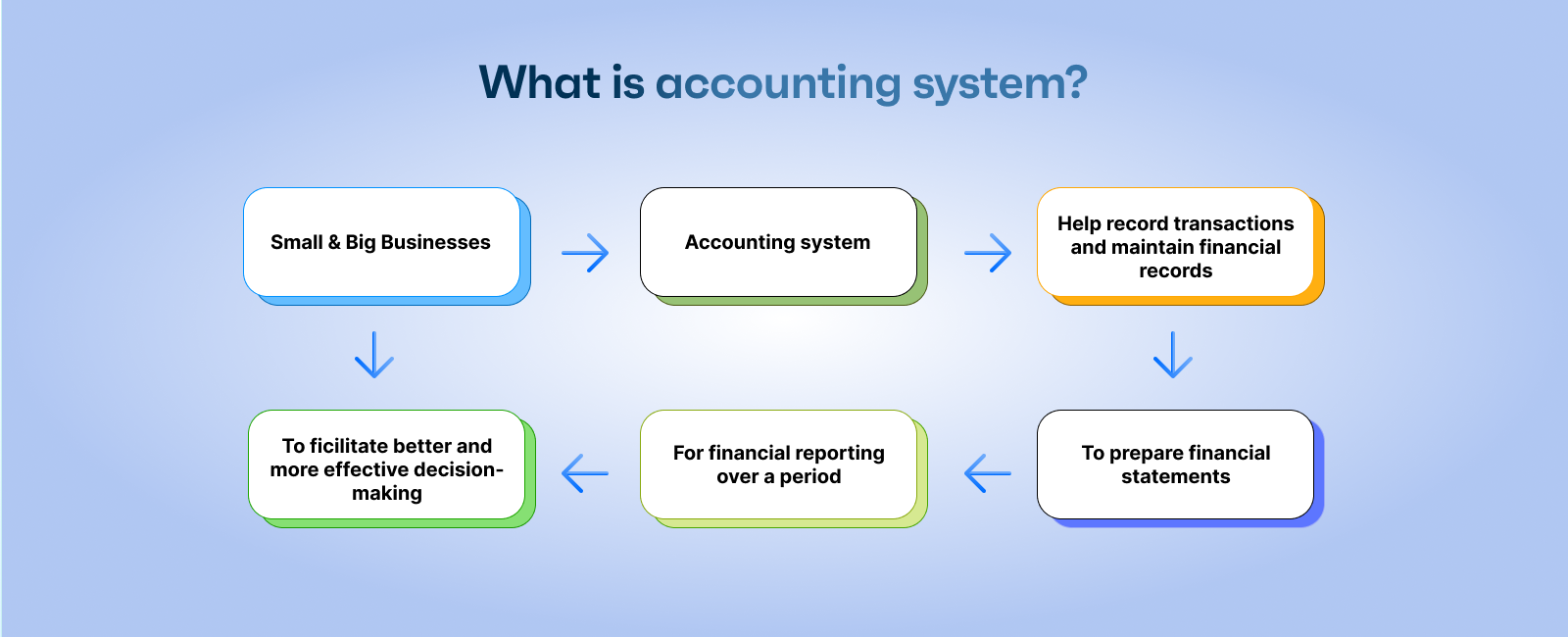 Source: Accounting System
An accounting system can be anything as simple as an excel sheet to a purpose-built accounting platform like Visma e-conomic that will help you maintain your accounting records. Basically, your accounting system is how you keep your financial records. You can generate financial reports based on bills, balance sheets, and invoices. 
There are different types of accounting systems. When selecting an accounting system for your business, it is important to consider the specific needs and requirements of your company. Some key factors to consider include the size and complexity of your business, whether you are a small business or a large enterprise, the type of industry you operate in, and your budget.
One way to determine which is the best accounting software is to find out the right fit for your business and evaluate the features and functionality it offers. Some common features of accounting systems include invoicing, inventory management, financial reporting, and tax compliance. It is also important to consider if the system is user-friendly and if it integrates with other software and systems that your business uses.
Another way to ensure that you are using the right accounting system is to research and compare different options. You can do this by reading reviews, talking to other business owners, and consulting with accounting professionals.
Implementing an accounting system can benefit your business by streamlining financial processes, providing more accurate and timely financial information, and enabling better decision-making. Additionally, it can help you to stay compliant with tax laws and regulations and improve communication and coordination between different departments.
Lastly, when implementing an accounting system, it is important to have a clear understanding of the functions it performs, such as accounting, billing, payroll, and taxes. Training employees on how to use the system and developing a system for maintaining the data to keep it accurate and up-to-date.
Overall, selecting and implementing a system of accounting that fits your business needs and accounting processes can be a complex process, but taking the time to research, evaluate and compare different types of accounting software for small business or large enterprises, and consult with professionals can help ensure that you make the right choice for your business.
Learn how Cloudify makes it simple to manage the finances of your business and optimise the growth. Contact the expert team
An accounting system can help track all kinds of financial entries such as invoices, expenses, liabilities, etc, generate reports, generate financial statements, help you take business decisions, have a clear picture of the profit and losses, let you connect with other business apps, offer cloud-based software solution, know about the key accounting features, payment processing, easy-to-use accounting, managing income and expenses, etc. that helps in growing businesses with advanced features with essential accounting and financial services.
Expense is the amount of cash that flows out of your business in exchange for products or services offered to your customers. In the older accounting system, the accountants use excel sheets to fill in the expenses. However, in the modern accounting app, it allows quick data entry, segmentation, and automatic balance of expenses. 
Today's cloud based accounting software lets you create automated invoices and send it across to the customers. It also offers the ability to keep track of the unpaid and paid invoices and income. 
Know more from our clients: Nerd911
An accounting software keeps track of all the business liabilities as payable values and also updates the balances whenever a payment is made. 
Cost accounting (i.e. cost incurred by business for transactions) and lean accounting (focuses on cost reduction while increasing value) comes under the purview of managerial accounting. 
The accounting system tracks and plan inventory levels.
These kind of finance apps focus on the needs of the business and can be system tailored for a specific industry. 
The system is able to produce expenditure reports and is also specific for the industry requirements. 
Furthermore, the accounting system used for recording transactions and financial documents that generates financial reports can be classified into two types- single entry system and double entry system. 
| Single entry system | Double entry system |
| --- | --- |
| It records only income or expenditure. This is a traditional accounting form. | This form is more accurate which keeps track of all the financial data. The data thus can be used for preparing financial reports with graphs and charts. |
| Data tracked – Date of sale, VAT on sale, Item cost, Payment method, account balance | Data tracked – all financial data |
SaaS accountings apps offer you with a robust way to manage your company's finances from top to bottom. This is because-
These apps are cloud based that lets you enter all the financial data effortlessly and automatically update the data. 
The platform lets you scale your business seamlessly. 
The interface lets you see, analyse and generate financial reports that lets you take operational decisions.
Some of the popular accounting apps for you:
Visma e-conomic
Fortnox
Zoho Invoice
Quickbooks
Xero

Content Developer
Meet Pernille, a skilled content writer with a specialization in the field of business automation and the IT industry.
Expertise
Process Automation
Artificial Intelligence