Key to successful implementation of production management system
In today's fast-paced manufacturing environment, it's essential to have a production management system that can help streamline operations, reduce waste, and improve overall efficiency. Implementing such a system, however, can be a daunting task. In this blog post, we'll discuss the key steps to successfully implement a production management system.
A production management system is a tool used by manufacturers to plan, organise, and control their production processes. It helps streamline operations, reduce waste, and improve overall efficiency.
Implementing an effective production management system can lead to several benefits, including improved productivity and efficiency, enhanced decision-making and planning, increased profitability, and improved customer satisfaction.
The purpose of this blog post is to provide readers with a step-by-step guide to successful production system implementation.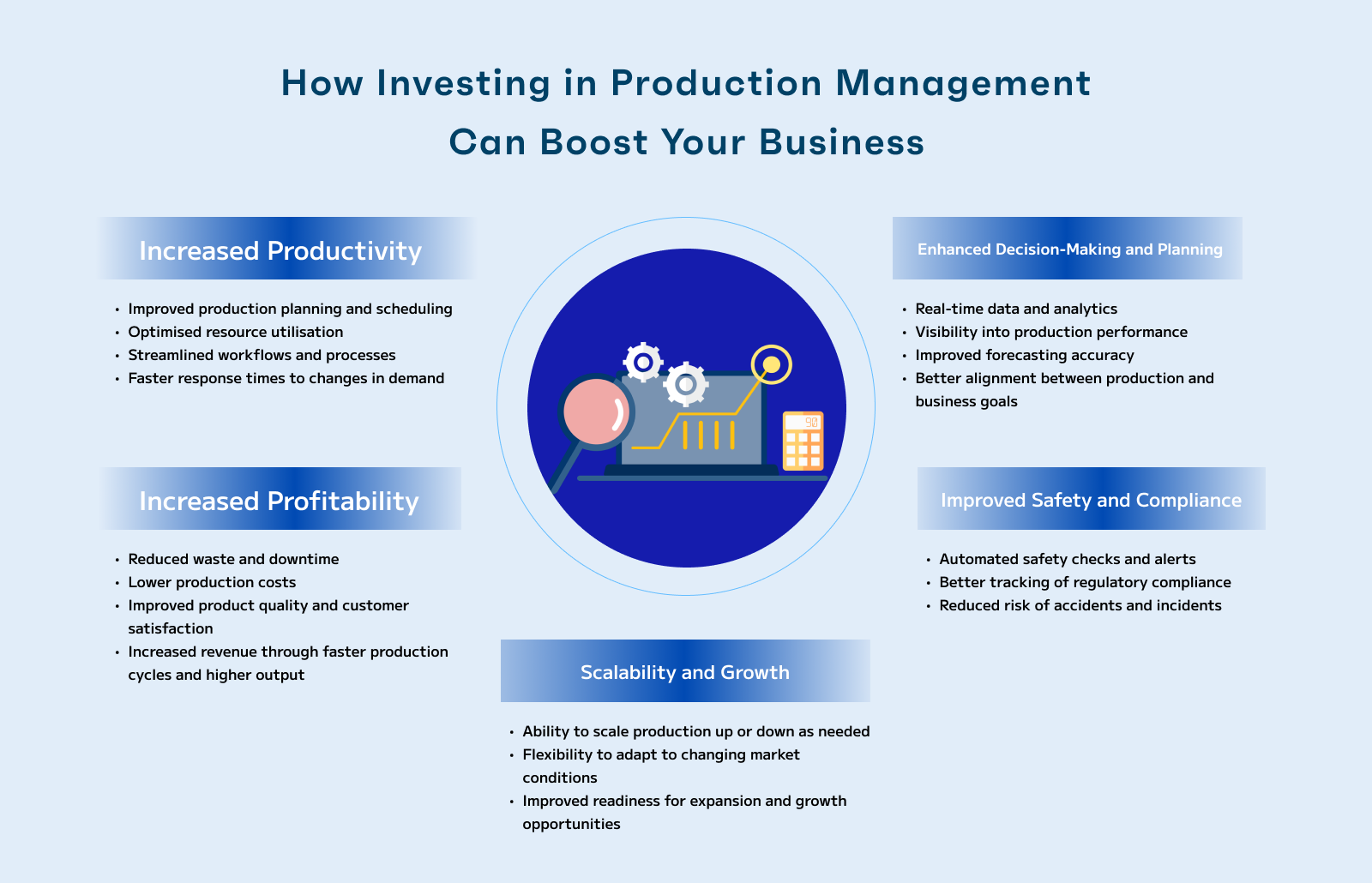 Conducting a Needs Assessment
Before implementing a production management system, it's essential to conduct a needs assessment. This involves evaluating your current production process to identify areas that need improvement.
Setting Goals and Objectives
Setting goals and objectives will help you identify what you want to achieve with the system. This includes identifying the key performance indicators (KPIs) that you want to improve.
Identifying the Necessary Resources
Identifying the necessary resources will help you determine the budget and other resources you need for the project. This includes the hardware and software requirements, as well as the personnel needed to manage the implementation process.
Establishing a Project Team
Establishing a project team will help you manage the implementation process effectively. This team should include stakeholders from different areas of the organization, including IT, production, and management.
Researching Available Options
The system selection process involves researching available options to ensure you choose the most suitable system for your needs. This involves gathering information about different systems and their features, as well as the vendors that offer them.
Evaluating the Options
Evaluating the options involves comparing different systems based on their features, cost, and other factors. This includes assessing how well the system aligns with your goals and objectives, as well as its ease of use and scalability.
Identifying System Requirements
Identifying system requirements will help you determine what you need from the system to achieve your goals. This includes determining the required functionality, as well as any customization or integration needed.
Making a Decision
Making a decision involves selecting the system that best meets your needs and fits within your budget. This may involve negotiating with the vendor to ensure that you get the best possible deal.
System Design and Customisation
The system design and customization process involves designing the system to meet your specific needs and customizing it to fit your business processes. This may involve developing new workflows or modifying existing ones.
Installation and Configuration
Installation and configuration involve installing the system and configuring it to work with your existing infrastructure. This may include setting up servers, installing software, and configuring security settings.
Data Migration and Testing
Data migration and testing involve transferring data from your old system to the new system and testing the new system to ensure it works correctly. This may involve data cleaning and transformation, as well as developing test cases and scripts.
Training and Communication
Training and communication involve training your employees on how to use the new system and communicating the changes to all stakeholders. This includes developing training materials and conducting training sessions, as well as providing ongoing support.
Go-Live
Go-live involves launching the system and making it available to all users. This includes testing the system in a live environment and resolving any issues that arise.
Measuring Success
Measuring success involves evaluating the effectiveness of the system and comparing it to the goals and objectives set during the pre-implementation phase. This includes measuring KPIs and assessing the impact on overall efficiency and productivity.
Identifying Areas for Improvement
Identifying areas for improvement involves identifying any areas where the system falls short or where further optimization is possible. This includes gathering feedback from users and stakeholders and analyzing data to identify trends and patterns.
Making Continuous Improvements
Making continuous improvements involves implementing changes and updates to the system to improve its functionality and performance. This includes incorporating feedback from users and stakeholders, as well as monitoring industry trends and best practices.
Successfully implementing a production management system involves several key steps, including conducting a needs assessment, setting goals and objectives, identifying resources, selecting a system, and managing the implementation process.
Know from our client's use case on Katana implementation: Viperflex

Social media manager
Meet Natalie , an experienced social media manager specializing in business automation.
Expertise
Business automation
AI