How to Choose the Right CRM for Your Ecommerce Business: A Comprehensive Guide
Customer Relationship Management (CRM) solutions are designed to manage and maintain relationships with clients in the B2B sector. By utilising these systems, it becomes possible to collect, track and utilise all the relevant information associated with the clients.
CRM solutions are beneficial for both businesses and customers. If you want to adopt a client-oriented approach, integrating a CRM solution is essential.
To meet the needs and expectations of clients, it's essential to offer high-quality services. CRM systems are an excellent tool to improve order fulfilment speed and accuracy, enabling businesses to provide better services to their customers.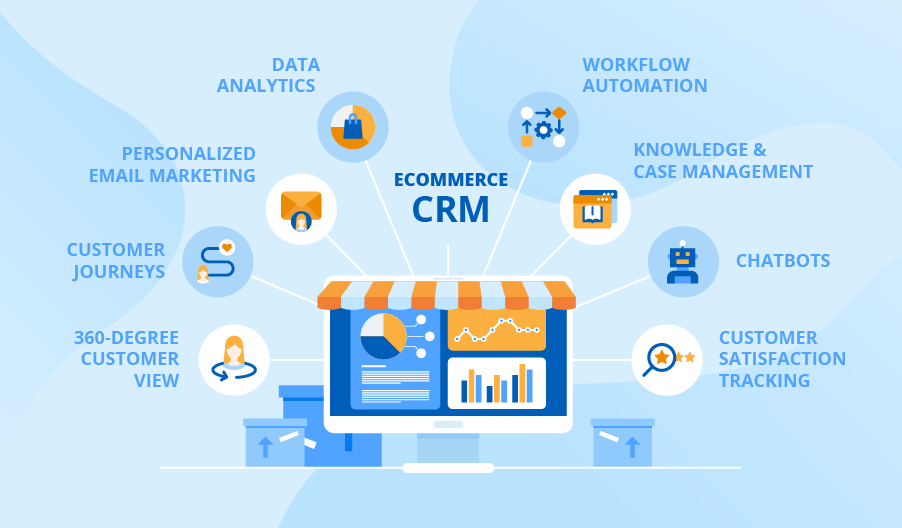 Let's explore the advantages of using a CRM system in eCommerce.
Sales growth: With CRM, you can access customer order and payment history, as well as their product preferences, allowing for a more personalised shopping experience.
Demand prediction: eCommerce CRM systems can predict product demand, enabling companies to ship goods to the required warehouses and reduce transportation costs.
Targeted marketing campaigns: CRM solutions provide personal customer data that can be used to create customised advertising campaigns.
Order tracking: CRM allows users to access order details, including shipment and delivery information.
Post-sales services: CRM can be used to offer customised deals and benefits to customers after they've made a purchase.
RMA management: The combination of RMA (Return Merchandise Authorisation) and CRM allows for monitoring the status of returning goods, reasons for return, and terms for returning.
Reduced costs: Automatic data synchronisation provided by CRM systems minimises human error, resulting in a smoother user experience and reduced costs.
The current IT market offers a range of pre-built CRM solutions, but it's also possible to develop a custom system. The question is, which option is the best fit for your business?
Unfortunately, there's no one-size-fits-all answer. To make an informed decision, you'll need to carefully analyze your business goals, requirements, and budget. Here are a few options to consider:
Cloud-based CRM system (SaaS): Ideal for small and medium-sized businesses, as it eliminates the need for additional hardware expenses.
Standalone CRM system: Requires a server but can be customized to your specific needs.
Custom eCommerce CRM: You can develop a bespoke system tailored to your business needs and expectations.
While developing a CRM system from scratch may be the best option, it's important to evaluate your business's unique requirements and goals before making a decision. With the right CRM solution, you'll be able to manage and maintain data in a way that meets your specific needs.
The benefits of developing a personalized CRM system for an eCommerce business go beyond the obvious advantages. Here are some advantages that we have outlined below:
Customisation: A bespoke CRM system is ideal for companies with intricate business models. This solution can be tailored to suit any business process and can provide flexible data management.
No recurring fees: As the company owns the CRM, there are no ongoing payments such as monthly license fees. In contrast, most off-the-shelf CRM solutions are priced per user, which can become quite expensive for enterprise businesses. Customized solutions offer an unlimited number of users.
Scalability: Ready-made solutions typically cater well to small companies, but large businesses need to handle larger amounts of customer data. Therefore, it is better to have the option to scale up your CRM system to suit your company's growth and requirements. Customised eCommerce CRM software is designed to anticipate business growth, so you won't have to spend a lot of money to achieve the required scalability level. Additionally, it is possible to create a B2B CRM software to better understand your clients' needs.
In order to develop a customised eCommerce CRM software that caters to your company's specific requirements, it is crucial to follow five key steps.
Step #1: Determine your Objectives: It is advisable to list the main goals for your eCommerce business and identify the problems that require resolution through CRM software. This will help you create a plan for future system development.
Step #2: Consider Important Features: Based on your objectives, create a list of vital features. It is better to start with creating an MVP (Minimum Viable Product) version of the CRM. After that, you can test the system and improve it based on your needs.
Step #3: Brainstorm with your Team: Organise a meeting with your team members to expand the list of features. Brainstorming sessions can generate innovative ideas to integrate into your eCommerce CRM software.
Step #4: Find a Reliable Team of Developers: Developing a custom CRM system requires expert software builders. Two common options include hiring in-house engineers or outsourcing the work to a company. Both options have advantages and disadvantages. For instance, hiring in-house software engineers can be time-consuming, but it allows you to make changes to your project quickly. Alternatively, outsourcing developers from other countries have various hourly rates, so you can select a country that suits your budget. However, it can be challenging to communicate due to different time zones.
Step #5: Use CRM Effectively: It is essential to understand that eCommerce CRM cannot solve all your problems. Its primary purpose is to optimize the information about your customers and enhance their experience.
When developing a customised CRM solution for eCommerce, it is advisable to prioritize the web version. Although having mobile apps for iOS and Android is useful, their development requires time and resources. Additionally, small mobile screens may not be ideal for managing customer relationships and can cause discomfort.
Market analysis: This feature enables tracking of the latest market trends to gain insights into customers' needs and increase sales.
Personalised marketing campaigns: Based on clients' personal information, custom eCommerce CRM software can create more targeted and personalised marketing campaigns.
Activity tracking: This feature enables the monitoring of customer activities, such as transactions, to offer personalised recommendations and analyse data for further insights.
Customer support: A custom CRM system can integrate complex support channels to provide timely and qualified assistance to customers. The system can also analyze requests and direct them to the appropriate employee.
Lifecycle analytics: Analyzing customer behaviour, including order and payment history, is a key feature of any eCommerce CRM software. This information can be used to offer exciting products and improve customer experience.
Messaging: With a customised CRM system, employees can send personalized emails to clients with relevant offers or recommendations to draw attention to necessary goods.
The aforementioned features have the potential to enhance your sales and revenue. It's possible to include more advanced features that cater to your business needs. It's recommended to create an MVP version initially and then extend your eCommerce CRM system.
To conclude, having a CRM system can benefit your eCommerce business in various ways. The decision to opt for a ready-made or custom solution ultimately depends on your analysis of the business goals and requirements.
Related content for you:
Didn't find your integrations here! Drop us a message with your requirements: Contact us
Related case study: veo

Social media manager
Meet Natalie , an experienced social media manager specializing in business automation.
Expertise
Business automation
AI