Project Overview
Our team embarked on a project involving the integration of two business platforms, Shopify, a leading e-commerce solution, and e-conomic, an online accounting software, utilised by the client for Psyche-Organic's daily operations. The primary objective was to automate the process of generating draft invoices in e-conomic whenever an order in Shopify was marked as paid.
The Challenge
What did Psyche-Organic needed help with?
The client, an e-commerce business with a high volume of transactions, faced the challenge of time-consuming and error-prone manual entries of order details from Shopify into e-conomic to generate invoices. With growing sales and a significant number of daily transactions, it became almost impossible to maintain accuracy and efficiency in handling these tasks. The process of manually fetching order details, separating line items, verifying customer and product information, and creating draft invoices were not only overwhelming but also led to a high rate of discrepancies and data inconsistency.
The Solution
How did we approach it?
We began by comprehensively understanding the client's needs and analysing their existing system. Our team utilised three e-conomic workflows to fetch customer information from emails, create products via SKU if not found, and create draft invoices. We utilised the Shopify API to obtain order details, such as line items, products, and prices whenever an order was marked as paid.
Our robust solution ensured that customer information was automatically fetched and created if not found in e-conomic. We ensured that the same procedure was followed for the products, with each product being automatically created in e-conomic based on the details obtained from Shopify. With all necessary details at hand, the system automatically generated draft invoices in e-conomic, eliminating the need for any manual intervention.
We implemented the function to fetch the necessary credentials for Shopify and e-conomic from Lighthouse, a process monitoring tool by Cloudify, further streamlining the process and bolstering security.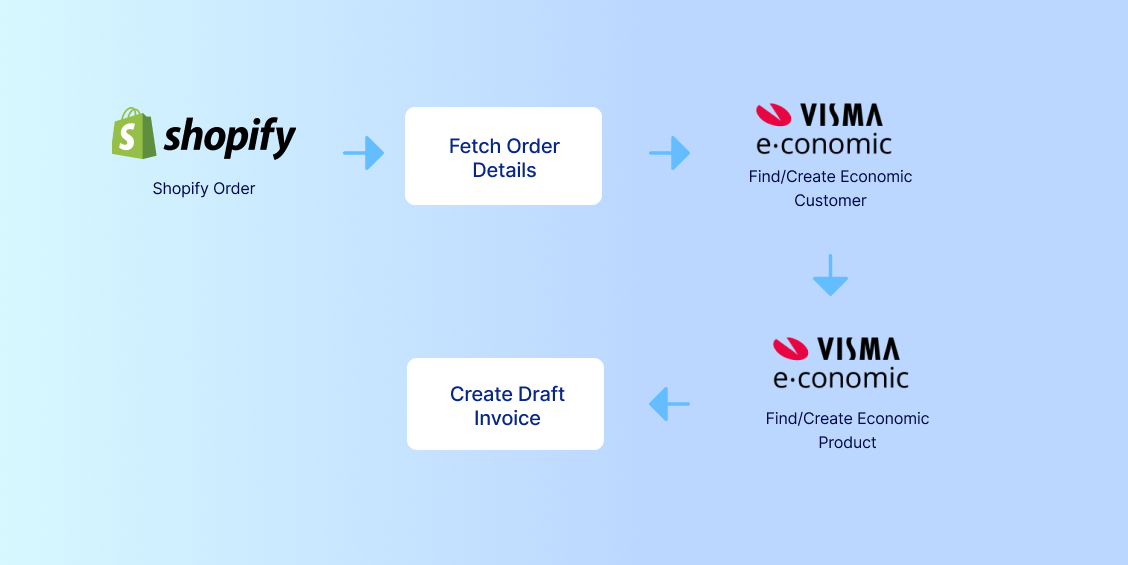 Automations delivered - SaaS apps that helped Psyche Organic grow:
Shopify: Shopify provides a user-friendly platform for businesses to create their own online store, manage inventory, and streamline sales processes.
e-conomic: The accounting app was integrated to generate invoices and automate invoicing.
The Results
Our solution revolutionised the client's operations by automating their invoicing process. This not only eliminated errors due to manual data entry but also significantly reduced the time taken for invoice creation, providing the client with more time to focus on their core business operations.
Transactions and corresponding draft invoices increased, and the rate of discrepancies reduced drastically. The automated process ensured that every order marked as paid in Shopify resulted in the immediate generation of an accurate draft invoice in e-conomic.
Why Cloudify becomes the perfect choice for Psyche Organic?
Let's explore the reason:
Strong partnerships: As experts in Shopify and an official partner of e-conomic, Cloudify was in a unique position to implement this solution effectively. Our in-depth knowledge of both platforms and our strong expertise in integrating diverse systems allowed us to devise a solution that was perfectly tailored to the client's needs.
Automation Experts: Our team comprises skilled automation experts who go beyond app implementation. We excel in integrating systems and orchestrating related automation processes. This expertise ensures a comprehensive approach to streamlining operations and maximising efficiency.
Process Consultants: At Cloudify, we are more than just an automation provider. We serve as your trusted process consultants, guiding businesses towards holistic growth. By leveraging smarter workflows and intelligent processes, we help optimise operations, enhance sales performance, and drive revenue growth.
Diverse Offerings: Our range of offerings includes digital analysis, SaaS implementation, and automation solutions. This comprehensive suite of services enables us to address various aspects of your business requirements and support your growth journey effectively.
Marketplace by Cloudify: As part of our commitment to delivering value, we have curated our own marketplace featuring a wide range of apps with predefined workflows. This marketplace serves as a valuable resource for businesses seeking ready-to-use solutions and accelerating their automation initiatives.
Customisation Capabilities: We understand that every business is unique, and their automation needs may vary. Cloudify excels in providing customised solutions tailored to fit both simple and complex automation requirements. Our ability to adapt to your specific needs ensures that you receive an automation solution that perfectly aligns with your business goals.

About Psyche Organics
Headquarters
Denmark
Industry
Sales
Products and services
Organic virgin olive oil sale
Website: https://psyche.organic/
You may also like these use cases